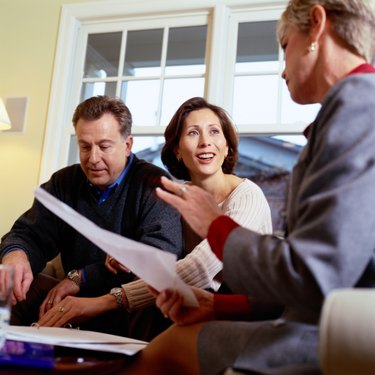 Insurance policies help married couples protect and prepare for the unexpected. Planning for insurance with a spouse can be part of an overall plan with a financial adviser or set up separately. Usually, couples obtain health and life insurance through an employer. Auto and home policies can be purchased directly from the insurance company or via a broker. Buying a policy as a married couple costs less in most cases than if policies were purchased individually. Though average costs fluctuate widely, married couples generally save money when combining insurance policies.
Health
Coverage for health related expenses remains costly even for married couples, and the premium increases with children to insure. According to the Kaiser Family Foundation, private employers provide health insurance coverage for just over half of U.S. residents. The annual Employer Health Benefits Survey conducted by the Kaiser Family Foundation estimated an average annual cost of $13,770 for family health insurance. Variables such as geography, employer size and overall health factor heavily into health-care insurance costs. The survey found insurance premiums higher in the Northeast and lower in the southern portions of the U.S.
Home
Homeowners insurance provides protection against specified unforeseen events or damages to a dwelling. Some mortgage providers require home insurance policies to issue a loan to purchase property. HomeInsurance.com reports that the average annual cost for a home policy is $724.84 for a married couple. Policy premium costs vary widely based on geographic location, property size and desired coverage. A couple who owns a home in a state often hit by hurricanes, for example, might pay a higher premium rate.
Auto
Drivers must have car insurance to legally drive in the United States. Most states also legally require licensed drivers to carry auto insurance coverage for uninsured motorists. Check with the state insurance commissioner to verify any laws regarding limits and coverage. According to CarInsurance.com, the average annual premium for married drivers is $1,409. Age, gender and geography also affect auto insurance premiums.
Life
Life insurance provides coverage for living expenses and other costs in the event of an unforeseen death. A surviving spouse or other dependents use benefits from a life insurance policy to cover costs after the loss of the deceased's income. Average costs vary widely based on age and health conditions. Life insurance policies are typically issued individually, though some insurance brokers may offer a discount to married couples. According to CNNMoney.com, the average annual cost of life insurance for a 40-year-old man averages around $350 annually for a $500,000 20-year term policy.