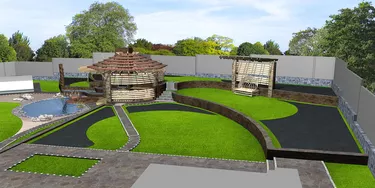 Things You'll Need
Lumber

Framing square

Circular saw

Reciprocating saw

Measuring tape

Hammer

Nails

Pencil

Level
Octagon steps are usually seen around the sides of an octagonal exterior deck. Since the deck is almost always attached to a house, the steps don't create a full octagon, but only part of one on the side of the deck opposite the house. Octagonal steps leading from the deck to the ground may feature three, four or five sides of an octagonal shape.
Step 1
Make the stringers for the steps out of 2-by-10s. A stringer is the piece of wood that extends from the deck to the ground underneath the treads of the steps. Lay out the location of the treads and risers on the stringer using a framing square, and cut them out using a circular saw. Finish the corners of the cuts with a reciprocating saw.
Step 2
Place a stringer at each corner of the octagonal shape, and every 24 inches along the straight parts of the steps to increase strength. Screw the top end of the stringers securely to the deck, and support their bottom ends on paving stones.
Step 3
Cut the treads so that they meet on top of the corner stringers. The end of each tread will need to be cut at a 22.5 degree angle. When you join two treads, they will create a 45 degree angle, which is the angle of the corner of an octagon.
Step 4
Measure the height and width of each step to be sure that they are consistent. Steps that vary from each other increase tripping hazards.
Step 5
Install risers in between the treads to create a closed staircase, or simply leave them open to create a more informal effect.