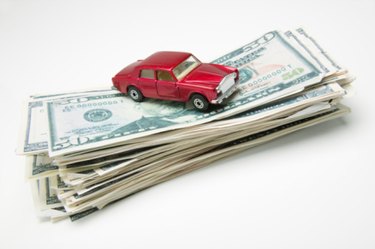 The Internal Revenue Service (IRS) allows a car buyer to deduct part of the Indiana vehicle registration fee. The buyer deducts the county tax portion of the registration fee that he paid to the Department of Motor Vehicles. The buyer itemizes the deduction on Schedule A of federal tax form 1040.
Sales Tax
Indiana requires sales tax on a vehicle purchased and registered in state, but you can not deduct the sales tax on Schedule A of your federal tax return. The sales tax on vehicles registered in Indiana is 7 percent.
Business Use
According to Indiana law, you can deduct depreciation costs on a vehicle if you used the car for business purposes. The sales tax is added to the price of the car, and the entire amount is used to calculate depreciation. If you report business usage of your car as a flat rate per mile, you can not take the depreciation deduction.
License Plates Excise Tax
As an Indiana resident, you can deduct the excise tax paid on your license plates when you register a vehicle. Indiana's excise tax is also known as the "County tax." You can itemize the deduction on Schedule A of your federal tax return. Each license plate renewal requires another excise task that you continue to deduct on Schedule A of Form 1040 every year. The excise tax is not deductible on the Indiana state income tax return.
Car's Value
The Indiana vehicle registration fee and excise tax are calculated using your vehicle's appraised value. Your car's age also influences the calculation. Since nearly all non-collectible cars depreciate, the amount of excise tax you pay and deduct every year will likely decrease.