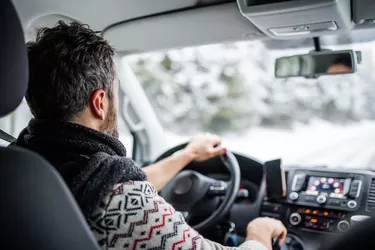 Owning a car means having to pay state registration fees and other applicable charges, no matter where you live in the U.S. Indiana Bureau of Motor Vehicles (BMV) website has information about Indiana vehicle registration fees, auto taxes, licensing and other information. Indiana auto sales tax is currently at ​7 percent​, so it is wise to consider this and any other charges before purchasing or leasing a vehicle, because they can tack on extra money to your transaction.
The Indiana state registration fee and the auto sales tax itself is not deductible, but all or a portion of the excise taxes you pay may be deductible on Form 1040, Schedule A, depending on your circumstances. You should consult your tax professional to determine whether this will apply to you.
Indiana Registration Calculator
If all of those fees seem a bit confusing, you can go to myBMV.com and use their Indiana registration calculator. Click on the "Start QuickQuote" button, and you will be taken to another page where you can enter the vehicle's purchase date, information such as the year, make and model, your name, county of residence and license plate type. Once everything has been entered correctly, the next screen will show what your fees are.
There are two registration fees: a basic fee plus an additional one for Transportation Infrastructure Improvement. Under that you will see excise fees. State and federal governments apply these taxes to products and services, and the amounts vary depending on the products, services and location.
Excise fees can be significant and can run into hundreds of dollars. The Indiana vehicle excise tax can be a flat rate, or it can be based on the vehicle's age and value. The website states that these taxes are used for maintaining Indiana's streets, highways, roads, bridges and additional infrastructures. You may be entitled to excise tax credits and refunds in certain cases.
Indiana Excise Tax Credits and Refunds
If you have sold your vehicle or if it has been destroyed (a total loss), you can apply for a credit or refund of a portion of the excise taxes that you paid. This only applies to vehicle owners who paid a vehicle, recreational vehicle, county vehicle or municipal vehicle excise tax. You will also need to prove that the vehicle was sold or destroyed with a bill of sale, a statement from an insurance company, a copy of the assigned title (front and back) and/or a Certificate of Gross Retail or Use Tax.
Once you have all of this information, you can submit it with a completed Application for Vehicle Excise Tax Credit/Refund (State Form 55296). People who register vehicles in Indiana and then register them in other states can also complete this form. To qualify, they will need a copy of the vehicle's original certificate of registration, plus a receipt for the new registration from the other state.
What Other Fees Must I Pay?
The Indiana registration calculator is a great tool for determining your registration fees. You can also look at the Indiana BMV Fee Chart to see a list of various fees for specific kinds of vehicle registrations. For instance, a passenger motor vehicle is ​$21.35​, while a motorcycle costs ​$26.35​, both as of September 2021. You won't have to pay anything additional for a standard license plate, but if you want to personalize it they charge ​$45​.
There may be additional county and municipal taxes as well. These will show up in the Indiana registration calculator. It is important to know that the figures shown are estimates and that the actual fees could vary. Still, this provides a decent idea of the registration, licensing and taxes that you may be subject to when registering.