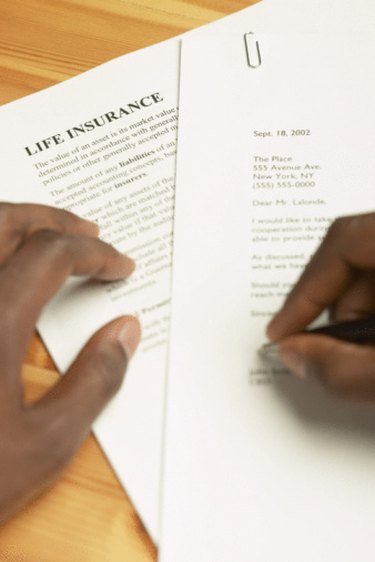 Absolute assignment is most often encountered in the insurance industry. It is the irrevocable transfer of all of your interests, rights and ownership regarding an insurance policy both in the present and in the future. One common use of an absolute assignment is during a life settlement on a life insurance policy where you sell your policy prior to your death.
Parties to an Absolute Assignment
There are several parties (people) involved in an absolute assignment of an insurance policy. It is important to understand the function of each party. The first party is the insured, the person who is covered under the insurance policy. If it is a life insurance policy this would be the person whose life is insured. The assignor is the person who currently owns the rights the policy is providing. The assignee is the person who will be receiving the rights.
Other Parties Involved
In addition to the people directly involved in the absolute assignment transaction, there are people who are tangentially involved. The first is the primary beneficiary. The primary beneficiary is the person who benefits if the policy pays off. In addition to the primary beneficiary there is often a secondary beneficiary who will receive the insurance proceeds if for some reason the primary beneficiary becomes ineligible. One of the primary rights that the assignee is looking to acquire is the right to choose the beneficiaries.
Why Assign Your Rights?
There are a variety of reasons why a person might want to assign his rights of ownership to an insurance policy. Business policies might be assigned if the business is sold. Life insurance policies might be assigned if a person is near death but needs the money to pay medical costs. Accident insurance policies might be assigned to cover the costs associated with the accident.
Why Absolute?
The term absolute means that once the rights are assigned you can't change your mind. Often when an life insurance policy is assigned the assignee might have to make several insurance payments before collecting on the policy. He certainly wouldn't agree to this if at some point in the future the original owner of the policy could change his mind and take the policy back. Therefore the policy transfer is absolute and can't be revoked.
Other Uses of Absolute Assignment
In addition to the insurance industry, absolute assignment is often used in the mortgage industry. Often in a commercial mortgage the lender will insist on an absolute assignment of rents clause in the mortgage contract. This means that if the lender has to foreclose on the property he not only gets the property but he also gets the rights to any rents the property is generating. This could be significant if the lender got the property but the former owner got to keep the rent.