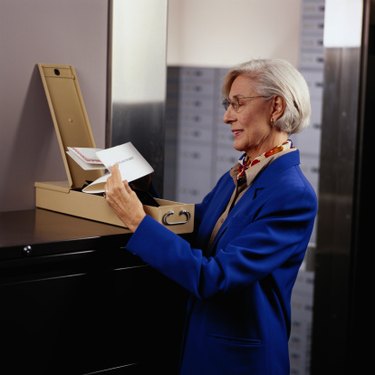 Safe deposit boxes are secure storage boxes that you can rent at your local bank. The boxes are located in a vault at the bank. Boxes come in a variety of sizes, the most common size is able to hold documents and small valuables, such as jewelry or coins. You must present the key and sign in with a bank representative to access your safe deposit box. There is an annual rental fee for safe deposit boxes.
Accessibility
You have limited accessibility to items stored in your safe deposit box. You can only access your box during the bank's open business hours. Most banks are closed evenings and weekends. Therefore, you should not store items or documents that you may need at a moments' notice in your safe deposit box.
Cost
There is an annual rental fee for safe deposit boxes. The fee is typically based on the size of the box. Banks can increase this fee annually. Some banks may offer a discount on the safe deposit box fee if you purchase other services with it.
Security
There have been instances when bank vaults have been cracked and safe deposit box have been robbed. Bank robbers have stolen contents of hundreds of safe deposit boxes at one time. Cash that is stored in safe deposit boxes is not insured by the FDIC. Coins, jewelry or other valuables should be insured by a private insurer as these are not covered by the FDIC, either.
Content Seizure
If your rent fee is unpaid or their is no activity for two to five years, the state has the right to seize the property left in the safe deposit box. If the bank is unable to contact you, the contents of the box will become the property of the state. Seized valuables will be sold at auction. You should always inform relatives of the location of your safety deposit box. Deceased safe deposit box owners are a common cause for abandoned boxes.