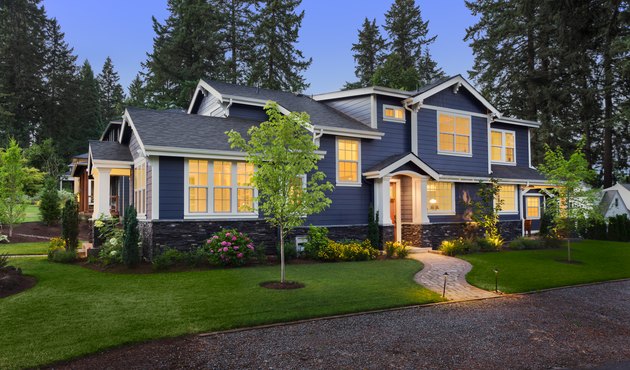 Gated communities and private communities are distinct from other kinds of subdivisions or masterplanned communities because gated or private communities have private streets. The public cannot use the resources inside the community without permission from property owners or the property management company.
Private and gated communities have association fees that cover maintaining the common areas and any buildings under association control. Gated communities can exist within private communities by cordoning off a separate subdivision within the overall masterplan by erecting a functional gate or guard house to restrict access.
Access to the Communities
Both gated and private communities provide a measure of isolation, although gated communities do it with fencing and entrance barriers. Sometimes the gates use cards or a numeric code to open the gate and others physically staff the gates with attendants or combine the two, depending on the time of day. Often a phone outside the gate connects visitors to residents who punch in a code to open the gate remotely.
Gated and Private Community Types
All kinds of residential communities can be gated or be designated as private, and do not need to have gates to be considered private. Single-family subdivisions, masterplans, attached communities with condos, apartments or townhomes and mobile home communities can employ gates to restrict access to the community.
Private communities can also designate themselves as age-qualified, where 80 percent of the residents need to be over 55 years old. These communities often have rules that restrict the amount of time children can visit.
Considerations Associated With Each Community
Gated communities complicate receiving visitors or home service providers because everyone without a gate card or code needs permission to enter, while in private communities, visitors can drive directly to the home. Gated communities typically have higher monthly association fees to accommodate the expense of operating and maintaining the gates. Living in a gated community slows entrance and egress during power outages or when one of the gates malfunctions.
Benefits of Each Community
Living in a gated community can reduce crime, although it is possible to follow a resident into a restricted community in a vehicle. The gates have sensors to stay open once properly triggered by a code, but criminals like to have fast access out of a community, and the gates take time to open to exit.
Vehicle and homeowner insurance premiums can be lower in gated communities compared to private communities. One of the biggest benefits of gated communities over private or communities is that street traffic is lower. The benefit of a private community over a gated one is faster and easier access in and out for residents, guests and emergency services.