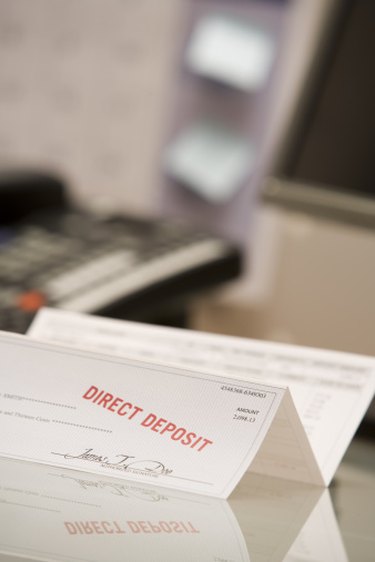 The Fair Labor Standards Act, which set the federal minimum wage, overtime, recordkeeping and child labor regulations, does not require your employer to give you a paycheck stub. However, most states require employers to give employees a check stub. If you no longer work for a company and are entitled to a pay stub by law, your employer is required to provide it. If you have not received your final pay stub, you can take certain steps to obtain the document.
Step 1
Contact your state labor department for its pay stub rules. Many employers give employees a pay stub regardless of whether the state requires it. If your employer gave you a check stub each time you were paid but was not mandated to, the company does not have to give you your last check stub unless it is required by state law. If you have a labor union that negotiated a pay stub with your employer for you and other employees, contact the union for assistance.
Step 2
Contact the U.S. Department of Labor, Wage and Hour Division if your employer refuses to give your last check stub as required. Specific federal laws may be in place to ensure workers receive a pay stub. For example, under the Migrant and Seasonal Agricultural Worker Protection Act, agricultural employers are supposed to give workers a pay stub.
Step 3
Ask your employer or payroll department for a copy for your last check stub. This is the easiest way to obtain your pay stub. Even if you are not entitled to a pay stub, but need one, such as for proof of income, your employer can quickly draft up a pay stub for you. In most cases, a check stub can be a separate written document or affixed to your paycheck, as long as it includes the required information, your employer can give it to you in either format.
Step 4
File a complaint with your state labor department if you are entitled to your last check stub and your employer refuses to give you one.
Tip
State paycheck stub penalties vary. For example, if a California employer intentionally refuses to give you your pay stub and causes you to suffer damages as a result, he must pay you the greater of all damages or $50 for the first pay period violation. Thereafter, he pays $100 for each subsequent pay period that he's in violation, up to $4,000, plus reasonable attorney fees. Further, the state can order the employer to pay you $750 for refusing your request to inspect or copy your pay stub.