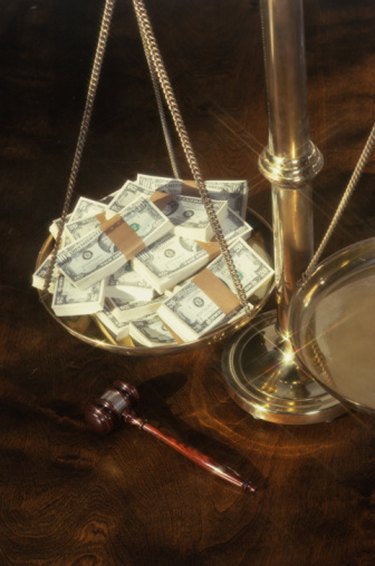 Judgments are derogatory marks on a credit history. Judgments occur when an account nears the statute of limitations to recover debt in that state and after a creditor wins a lawsuit guaranteeing payment on defaulted debt. If the borrower does not have liquid means to pay the debt, the judgment automatically becomes a lien on any owned property. When this happens, judgments are paid and settled upon sale of that property. However, even after the gavel falls on a judgment, it is possible to resolve it with the creditor for pennies on the dollar.
Step 1
Write a letter to the judgment creditor offering a settlement. Ask whether they will accept 50 percent of the judgment balance in exchange for clearing the court judgment and marking it as paid on your credit report. You want to avoid phone calls with judgment creditors; it is best to keep all communication in writing. Wait at least 30 days to hear back from the judgment creditor after your first letter. They will respond either with the consent of the settlement offer or with a counteroffer.
Step 2
Respond to the letter you receive from the judgment creditor, either with a letter confirming acceptance of payment terms or with a counter to their offer. It is crucial to note that you may need to complete several counteroffers before you reach an agreement. In most cases, a lump-sum payment will fare more favorably on your behalf in a settlement offer, as opposed to payment arrangements. Your response letter needs to require a signature from a representative of the judgment creditor agreeing to the terms of the settlement agreement. Do not remit payment until you have a signed copy of this letter in hand.
Step 3
Get a cashier's check or money order for the previously agreed amount. Send the payment via certified mail, along with confirmation of the terms and a copy of the letter the judgment creditor signed. Once you confirm the creditor received payment, follow up with the county clerk's office for verification of the cleared judgment within 30 days. Also, follow up on your credit report to ensure that the judgment is marked as paid. If the judgment creditor did not follow the terms of the agreement, it might be time to hire legal representation.