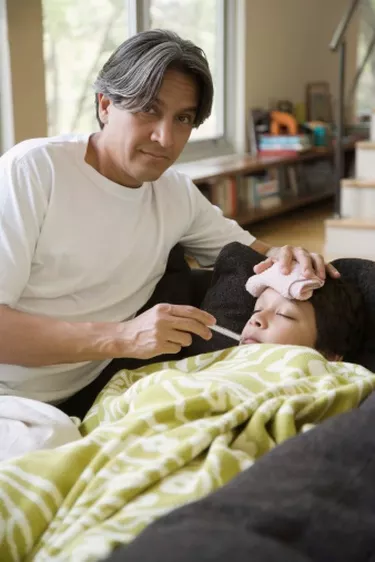 Washington employers are not required to purchase short-term disability insurance for their employees. However, employers must comply with the federal and state short-term medical disability laws allowing their employees to use accrued leave during their short-term illnesses. In addition to receiving protection under the federal Family and Medical Leave Act (FMLA), Washington law allows eligible employees to receive job protection under the state's family leave laws.
Family Care Act
The Washington Family Care Act requires employers to allow their eligible employees to use any paid vacation, holiday leave, paid-time-off leave and sick leave they have accrued to care for their domestic partners, spouses, children, parents, grandparents and in-laws who are suffering from a serious medical illness. Additionally, parents can use their accrued leave to take care of their children who are under 18 for routine medical conditions or doctor visits. It also allows parents with adult children to care for their disabled children's needs. The act covers pregnant spouses and registered domestic partners during and after childbirth. The leave law applies to all employers, regardless of its size, and it only applies to employees who have paid leave through their employers.
Federal Family Medical Leave Act
The Family Leave Act requires employers to comply with the federal Family and Medical Leave Act. The United States Department of Labor is responsible for enforcing the Family and Medical Leave Act. The federal law requires covered employers to provide their eligible employees with job protection and continuing health coverage if they worked at least 1,250 hours during the year preceding their leave requests.
Washington Family Leave Act
Similar to the federal law covering only those employees who work for employers with at least 50 employees within a 75-mile radius, the Washington law covers also covers employees who meet the threshold hours requirement and employer size requirement. However, the Washington law typically only covers pregnant women and their domestic partners or any leave remaining after an employee exhausts her FMLA leave (normally 12 weeks for pregnancy). Thus, pregnant employees and their qualified partners can use 12 weeks of family leave in addition to any pregnancy-related Family Care leave. Employers can require their employees to use any accrued paid leave, and employees have the right to use paid leave, if provided by their employers.
Leave for Victims of Domestic Violence and Family Members
The state of Washington provides families and their dependents with excused time off from work to obtain treatment or find legal help for their domestic violence injuries that include physical violence, stalking and sexual assaults. Employees must provide advance notice, if foreseeable, but they must provide notice by the end of the first day of leave, at the latest. Employers must allow their employees to use any accrued paid leave, and they must allow their employees to use leave a reasonable amount of leave. The leave is typically unpaid, but employers must allow their employees to use any accrued paid leave. The law applies to all employers, regardless of size.
Considerations
Since state laws can frequently change, do not use this information as a substitute for legal advice. Seek advice through an attorney licensed to practice law in your state.