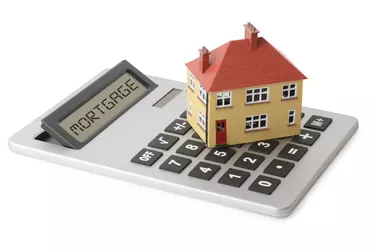 Mortgage lenders offer homeowners vast mortgage menus, from old fashioned fixed-rate loans to more innovative adjustable-rate loans. You must research their features before choosing a mortgage. Adjustable-rate mortgages known as "hybrids" offer a discounted introductory interest rate, but your rate changes throughout your repayment term. A hybrid ARM's rate-adjustment periods are described in terms of the frequency of rate changes and the maximum amount the rate can fluctuate, known as caps. A 5/2/5 ARM can change by up to 5 percent upon the first adjustment, 2 percent thereafter, and by no more than 5 percent over the loan's lifetime.
Caps Describe Allowable Rate Changes
A hybrid ARM is described according to its initial teaser period and the interval of subsequent rate changes. The low, fixed interest rate during the teaser period is less than that of fixed-rate loans. The most common hybrids are 3/1, 5/1, 7/1 and 10/1 ARMS, which carry three-year, five-year, seven-year and 10-year fixed-rate periods, respectively. Each of these is subject to a rate change every year after the initial rate adjustment, hence the 1. The 5/2/5 rate cap structure is based on these adjustment intervals.
Caps Prevent Drastic Rate Changes
To maintain some predictability and stability, hybrid ARMs are capped in three ways. A 5/1 ARM with 5/2/5 caps, for example, means that after the first five years of the loan, the rate can't increase or decrease by more than 5 percent above or below the introductory rate. For each year thereafter, the rate can't fluctuate more than 2 percent. Over the life of the loan, the interest rate can't reach more than 5 percent above the initial interest rate or dip 5 percent below the initial rate.
Higher Caps May Apply
The 5/2/5 caps typically apply to 5/1, 7/1, and 10/1 ARMs. Hybrids with less than a five-year teaser period usually start with a 2 percent cap, rather than a 5 percent cap. The annual 2 percent cap is typical of most ARMS, despite the length of the initial fixed-rate period. The final lifetime cap is usually 5 percent or 6 percent, depending on the loan's repayment term.
What Else is in a Name?
A 5/2/5 ARM is tied to a certain index. Among the most common indexes that determine ARM rates are the London Interbank Offered Rate, or LIBOR, and the 11th District Cost of Funds Index, or COFI. You might therefore, be offered a LIBOR or COFI ARM. Rate fluctuations are tied to the specified index, plus a margin of about 2 percent to 3 percent.