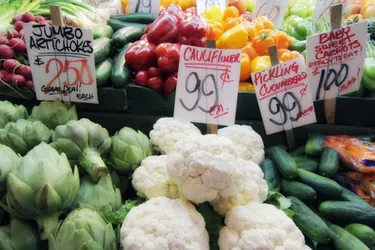 CalFresh, the name of the food stamp program in California, provides a monthly food allowance to eligible households. Families can use the benefits to buy the food they need to stay well-nourished. Eligibility requirements include income limits to make sure the benefits go only to families who would not otherwise be able to afford the purchases.
Gross Income
The first income determination of eligibility for California food stamps is overall household income. This total must be no higher than 130 percent of the federal poverty level unless the household includes a person who qualifies as elderly or disabled, in which case the limit is 165 percent of federal poverty. For 2011, for example, the federal poverty level for a family of four is $22,350. For the purposes of CalFresh eligibility, that family's income could not exceed 130 percent of that number, or $29,055. If the family includes a disabled or elderly person, the limit would be $36,877.
Net Income
If a family's gross income is within the eligibility limit, the state then makes various deductions to determine whether the household qualifies for food stamps based on net income. Net income may not exceed the federal poverty level for the family's household size. The deductions include 20 percent of earned income, a flat deduction of between $134 and $191 based on household size, and possibly shelter costs, some utility expenses or phone bills, child care and a portion of out-of-pocket medical expenses.
Income Factors
A family's gross income includes earned income and unearned income, such as Social Security. Only a few sources are exempt from the income assessment, including non-monetary benefits such as meals or clothing from a charity, assistance with utilities or other household expenses, deferred student loans and scholarships and grants. Exempt monetary benefits include charitable gifts that do not exceed $300 per calendar quarter and irregular income that is no more than $30 per quarter and is too infrequent to reasonably anticipate.
Additional Considerations
Incomes relatively close to the net income limit will reduce a family's monthly food stamp benefits. California designates a family's maximum monthly allotment of food stamps based on household size using guidelines from the U.S. Department of Agriculture's Food and Nutrition Service. A family's actual benefit amount is its maximum allotment minus 30 percent of net monthly income. The guiding principle is that low-income households should spend roughly 30 percent of their own financial resources on food.