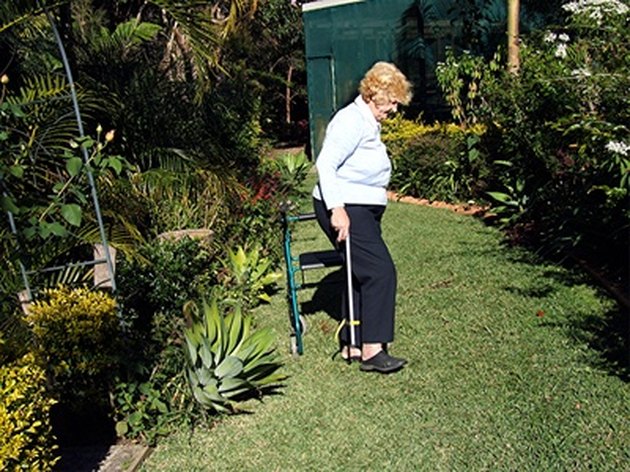 Whether a sudden onset or the result of a long-term chronic condition, disability can send the sufferer and their family's life into turmoil. Often the first and most pressing need is to find some means of financial support for day-to-day living expenses and to pay bills. While there are sources for help, it behooves the disabled individual to file an application for help as soon as possible, especially when it comes to social security, because the process usually takes some time to play out.
Family and Savings
Some people would say that family and close friends are the first place to turn in a time of financial need due to disability. Though fraught with the potential for hard feelings, this might be your best choice, repugnant as the idea may be, for immediate help to make ends meet. Offering to make the request into an official loan with a signed promissory note might be a good idea. Savings accounts and investments are another option for quick cash, though you should expect to pay an early withdrawal penalty on sources like IRA accounts.
Employer Resources
If your disability was caused by conditions at work, either directly or indirectly, you should speak to the human resources department to find if there is any sort of short- or long-term disability benefit, or if you have any basis for a workers compensation claim. While you might think there are no applicable employment benefits, take the time to make a simple phone call to find out for certain. Smaller companies might even have an "unofficial" account to help out employees in times of need.
Government
The big one here is social security disability, which is a federal program that pays you a monthly benefit for life if you qualify. The key idea here is "qualify." Except in the most desperate of circumstances, it can take anywhere from several months to a year or longer for your application to make its way through the system. Once you do qualify, there is at least a baseline level of financial support but you're going to have to find other means to pay your bills for the waiting period. Don't forget to explore the options for financial assistance at the state and local level as well. Food stamps and emergency cash are available for those in need.
Private and Nonprofit
Along with a disability normally comes the double whammy of medical expenses. Sometimes overwhelming medical expenses. A person with a disability should explore the private sector options to help pay for medicines and treatment. Organizations like HealthWell Foundation provide funding for those suffering from a variety of immune system illnesses. Most major drug companies have programs that offer free or very low cost drugs to those who need them but have few financial resources. The thing to keep in mind is that help is out there. If you don't know how to find it yourself, ask someone for assistance.