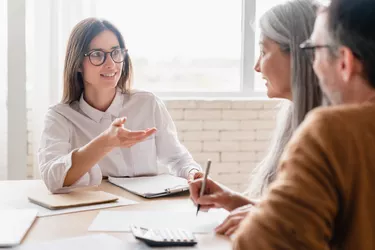 As you establish wealth, it's critical to understand different types of assets and investments. You'll need to answer questions like, is an IRA a liquid asset? Is a 401(k) a non-liquid asset? Once you get the answers to these questions, you will be able to make informed decisions about your financial health.
Are Retirement Accounts Liquid Assets?
Is an IRA a liquid asset? The answer to this question depends on who asks it and when. In general, most financial experts do not consider IRAs and 401(k)s to be liquid assets until the person who holds them reaches retirement age. According to ​Forbes​, they may become liquid assets after that point.
A liquid asset is loosely defined as anything a person owns that can quickly be turned into (or liquidated into) cash without losing value. While the money in your retirement account is yours, withdrawals carry high tax penalties and fees. There are also sometimes other hoops to jump through. For that reason, the experts do not consider them to be liquid assets.
If it's not a liquid asset, is a 401(k) considered an asset? Yes, they're non-liquid assets, also known as illiquid assets. These assets do factor into your overall net worth, and you can sometimes use them as collateral for loans or investments.
What Are Liquid Asset Examples?
Sometimes, the best way to illustrate and understand something is by looking at examples. Is a checking account a liquid asset? Yes, it is, and this is because you can walk into your bank or financial institution and withdraw all the money in your checking account. Regular savings accounts are also considered liquid assets.
Is a pension considered a liquid asset? A pension is another type of retirement account. Pensions are considered the least risky of all retirement accounts, and large public institutions like state and local governments often use them. Therefore, most experts do not consider it a liquid asset until you retire.
Are stocks liquid assets? Yes, you can sell stocks relatively quickly and walk away with their cash value at any time. Finally, is a car a liquid asset? No, a car is considered a fixed asset because you cannot quickly and easily sell it for cash, and you should keep in mind that you'll need to pay any outstanding loan or lien on the vehicle as soon as you sell it. Other examples of fixed assets include real estate, jewelry and antiques.
Should You Borrow Against Your Retirement Accounts?
Your retirement accounts belong to you, and you can access that money if you need it; however, most financial experts advise against it, such as those at Fidelity. Many advise their clients to do everything possible to avoid borrowing against or withdrawing from their retirement. There are a few reasons for this, and the first is that making an early withdrawal or cashing in your retirement account carries hefty tax fees. You likely didn't pay taxes on that money before you deposited it, so you'll have to pay them now.
In addition, there is a 10 percent penalty for taking that money early. To use an example to illustrate, if you need ​$15,000​, you'll need to withdraw considerably more (​over $23,000​) to walk away with the ​$15,000​ in hand.
While you can avoid these fees by taking a loan against the account, you'll still need to pay that back, plus interest. If you quit your job or otherwise lose it, you may have to pay back the loan within one year, which can be an additional financial burden on top of the loss of employment.