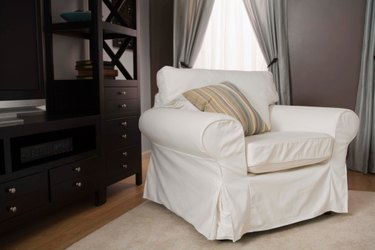 Slipcovers are a quick and inexpensive way to cover damaged, stained or outdated upholstery. Most of the expense in slipcovers is centered in the fabric. If you are covering a larger sofa, you may use six or eight yards of fabric and that quickly adds up. The best way to save is to look for fabric remnants, flat sheets on sale, or thrift store linens or fabrics that are in new or excellent condition that you can re-purpose for your slipcovers.
Step 1
Wash your fabrics and iron them. Look for damage, holes, tears or discoloration. Mark these with tape and pins so you can see them easily when you cut out your patterns. Often you can work around small fabric problems. For new fabrics, you need to launder it before you sew it; otherwise, it will shrink the first time you wash it.
Step 2
Position your fabric face toward the furniture, covering the largest part of the furniture first. On a sofa, this would be from the seat back crease, over the top of the sofa back and down to the floor. Do not cut your fabric until you pin your seams together and everything fits.
Step 3
Pin a second piece of fabric along the seat back crease, allowing extra fabric to tuck down behind the seat cushion. The fabric should cover the seat cushions and fall to the floor in front of the sofa. Allow for a 1/2 inch seam allowance along your pin lines.
Step 4
Pin fabric to the side of the sofa or chair. Use the existing seams on the furniture as a guide. Your side fabric will wrap over your sofa arms and be pinned or seamed where the arm meets the sofa seat. Cut your fabric to shape it to fit your sofa design using fabric scissors. A sofa slipcover is usually 4 pieces of fabric: back, seat and two arms and sides. A chair would also be back, seat and two arms and sides. Allow excess fabric for your hems and to tuck into the seat creases on sofas or large upholstered chairs. Inexpensive slipcovers usually do not cover each cushion separately; instead, the cushions are covered with a single large cover that covers the entire sofa.
Step 5
Cut your fabric 1/2 inch away from your pinned seam lines and 2 inches longer at the hem line. Sew your pinned pieces together at your seam lines with the fabric face sides together with your sewing machine. Turn your cover right side out and place it over the sofa. Note locations of excess fabric or crooked seams and pin to correct these problems. Turn your cover inside out and make your corrections.
Step 6
Turn your cover right side out. Place it on the sofa. Tuck the fabric deep behind the cushions to secure the cover. Smooth out any creases. Once the cover is fitted, pin along the hem line so that the hem is even. Remove the cover and sew your hems. Iron your seams and trim off any excess fabric.
Tip
Look for inexpensive fabrics at thrift stores, flea markets and discount stores. Ask your family and friends for old curtains or bolt fabrics they may have stored in an attic or garage. Look for king size sheets and comforters if you will be covering a larger couch.
Mix fabrics together for a shabby chic look. Often this style will use one fabric for the base of the furniture and another fabric for the pillows and cushions. The fabrics should look good together and you should use accent pillows that further unify your patterns and colors. This will save you even more money by using smaller remnant fabrics for larger slipcovers.
It is a good idea to trace out your pattern onto paper if you intend to make other slipcovers as this will save you time in the future.
Things You'll Need
Sheets

Fabric

Pins

Fabric scissors

Sewing machine