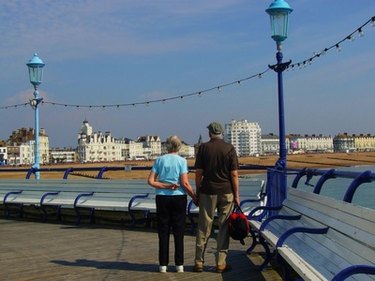 Retirement plans are a common employment benefit, helping employees to plan for their later years and providing additional value to the time they spend working. Common retirement plans include IRA contributions and 401(k) plans. For federal civilian employees, however, the Federal Employee Retirement System is used to provide for employee retirement benefits. Retirement funds from three different sources are combined in the FERS program, ensuring that federal civilian employees receive all of the retirement funding they are due.
History
The Federal Employee Retirement System was created by Congress in 1986 as a replacement to the previous Civil Service Retirement System. FERS went into effect on January 1, 1987, providing retirement benefit coverage for all civilian employees who were hired or rehired after 1984. Employees hired prior to 1984 with retirement benefits under CSRS could change their retirement package to FERS if they chose, taking advantage of the added Social Security coverage included with the FERS program.
FERS Components
FERS consists of three retirement components: the Basic Benefit Plan, Social Security benefits, and the Thrift Savings Plan. The Basic Benefit Plan is the main component of FERS and is not reliant on outside sources for payout. Social Security benefits and enrollment in a Thrift Savings Plan are coordinated by the employee's federal agency but are handled by the Social Security Administration and the Federal Retirement Thrift Savings Board. All three components pay out according to the policies of their creating agency upon retirement.
Contributions
Contributions to the FERS Basic Benefit Plan, Social Security, and the Thrift Savings Plan are made as payroll deductions, the money being paid or deposited without the employee having to make direct contributions. Additional contributions can be made directly into the Thrift Savings Plan if the employee wishes, much like an individual can make additional IRA contributions on top of contributions deducted from their paycheck at a non-federal employer that offers an IRA retirement benefit.
Transferance
If a federal employee leaves federal service to take another job before retiring, portions of their FERS benefits may be transferable to their new employer. The Basic Benefit Plan doesn't transfer when an employee leaves federal service, but Social Security benefits do transfer. Contributions to the employee's Thrift Savings Plan may also be transferred to a traditional IRA or may continue to be made until the former employee reaches retirement age.
Retirement
Federal employees can retire when they reach the minimum retirement age provided they have worked for their agency for a sufficiently long time to become vested. Minimum retirement age is determined by the employee's birth year, ranging from 55 years of age for employees born in 1947 to 57 years of age for employees born in or after 1970. The amount of time required to become vested varies depending on the employee's age as well, with those at minimum retirement age requiring 10 to 30 years with the agency while employees 62 years old or older require only 5 years of service.