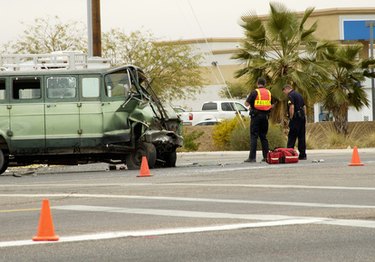 According to the State Farm Auto Insurance website, your insurance premium may rise after you file a claim, but the costs, circumstances and even your state's laws are taken into consideration in each case. For smaller claims, there may not be any increase at all, and some drivers may even qualify for the company's "forgive the first accident" program.
Risk Factors
State Farm policyholders pay an auto insurance premium that is based on their gender, age, credit score, location and vehicle, as well as their accident and claim history. Any future claims the policyholder files with State Farm will alter this driving history, which may cause a rise in their premium come renewal time.
Type of Claim
The type of claim you file with State Farm will determine any increase, if at all, in your insurance premium. Some of the factors taken into consideration include the amount of your claim, how many claims you have filed over the life of the policy, your state's laws on fiscal responsibility, such as no-fault versus tort states, and the type of claim you are filing, which can range from a minor scratch to a stolen vehicle. State laws regarding auto insurance policies are published through the National Association of Insurance Commissioners.
Rate of Increase for Accident Claims
In a 2008 study conducted by State Farm Auto Insurance, it was reported that a policyholder's insurance premium rose by 10 percent after one accident in a one-year period, and 45 percent if two accidents were reported within one year. However, State Farm only increases your premium if the combined comprehensive and liability claim after an accident totals more than $750, so minor accidents will not affect your rate.
Accident Forgiveness
Policyholders who have been with State Farm for nine, accident-free years will see their safe driving skills pay off, reports the website Insure.com. State Farm's "forgive the first accident" policy ensures that nine year-free drivers will not incur a premium increase after their first accident, regardless of the cost in chargeable damages.