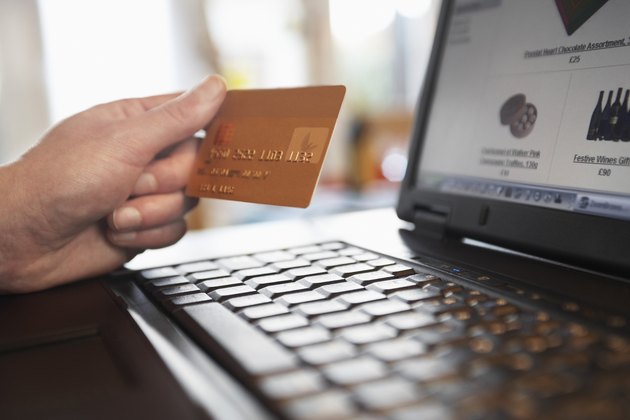 While e-commerce has opened up a world of convenience for both buyers and sellers, it also has created a multitude of opportunities for con artists, identity thieves and fraudulent businesses. These entities can take advantage of unaware consumers and take their money, steal their identities and damage their credit rating. Consumer awareness of these potential scams can protect individuals and businesses from these costly and stressful encounters.
Identity Theft
Identity theft occurs when someone acquires your personal data and uses it without your permission. While the unauthorized use of data such as your name, address, Social Security number and bank account information is a federal crime, identity theft is still a lucrative opportunity for criminals. According to a 2013 report from the Bureau of Justice Statistics, identity theft victims lost more than $24.7 billion in 2012 -- $10.7 billion more than the combined losses from burglary, motor vehicle theft and other property theft. Consumers should always be aware of whom they choose to give their personal information to and how the other party plans to use it.
Work-at-Home Schemes
The FBI says many work-at-home schemes include such unethical practices as requesting advance fees for worthless sales material, mystery shopper scams that pay participants with counterfeit checks and pyramid schemes. People who are interested in work-at-home jobs should ask the employer about the logistics behind how the company works, what tasks the employee will be expected to perform and when and how much the employee should expect to be paid. The answers to these questions, as well as the employer's attitude about answering them, serve as strong indicators of the company's legitimacy.
Product Fraud
Thousands of products tout supposed health benefits and feature phrases such as "miracle cure," "rapid weight loss" and "anti-aging" but often lack the scientific evidence to back up their claims. A 2014 report in "The New York Times" showed that 13 percent of the fraud claims submitted to the Federal Trade Commission in 2011 were for weight-loss products, more than twice the number in any other category. Consumers should examine the claims that these sellers make and verify if the products live up to their hype based on scientific research, customer reviews and independent news sources.
Email Scams
With the widespread use of email as a primary means of communication, several types of scams have surfaced to defraud unsuspecting users. A phishing scam involves sending the victim an email message disguised to resemble messages sent by a bank, retailer or credit card company; the email asks the user to send his account information for verification purposes. Recipients of these emails should check the email return address or call the company's customer service department to determine if it originated from the company.