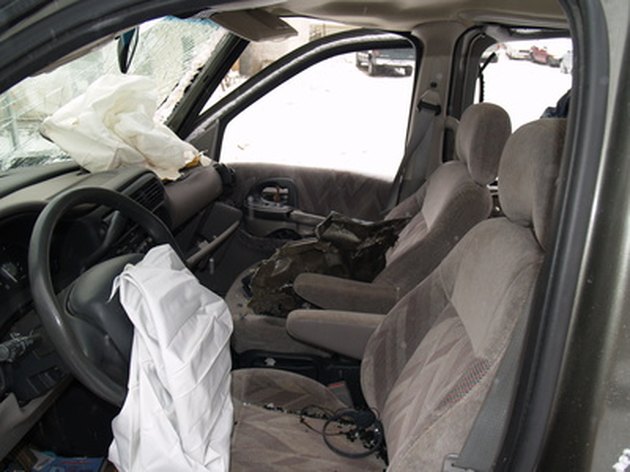 The first thing you should know about PLPD auto insurance is the source of the acronym. "PLPD," sometimes written "PL/PD," stands for "Personal Liability/Property Damage." You will see other words for the first "P," including "Public" and "Property." PLPD coverage originated in Michigan in the 1970s as a response to no-fault insurance laws, which were mandated in 1970. Although every state except New Hampshire requires automobile insurance, only 12 states still have no-fault laws on the books. PLPD, no matter how the acronym is interpreted, represents the minimum amount of coverage that most states allow for you to operate your vehicle.
Personal Liability
This portion of a PLPD policy pays you for injuries suffered and injuries suffered by others (except for, in some states, your personal injuries if you're at fault). It also protects you against lawsuits under most circumstances and provides payment to others if you're found liable for an accident and are sued. In Michigan, for example, every no-fault policy sold, including PLPD policies, must contain three parts: personal-injury protection (PIP), property protection insurance (PPI) and Residual Bodily Injury and Property Damage Liability Insurance (BI/PD). These three components are the basis of all auto insurance policies in Michigan. Again, these terms vary from state to state and are dependent on your state's no-fault laws. Michigan, having one of the most comprehensive no-fault system in the U.S., requires PLPD policies to provide unlimited medical and rehabilitation benefits to policy-holders, wage-loss benefits for up to three years and $20 a day for vehicle replacement.
Property Damage
The property-damage portion of a PLPD policy addresses damage done to other people's property, such as buildings, fences, public utilities and parked cars. Property-damage coverage does not pay for damage to your car or to the other person's car. Additional collision insurance must be in place to assist you in repairing or replacing your car, and the same applies to other cars in no-fault states. You may be sued in non-no-fault states for damage to other vehicles.
Other Coverage
As part of most policies required in no-fault states, and as part of all PLPD laws in most states, some form of Michigan's Residual Bodily Injury and Property Damage Liability Insurance component is required in PLPD policies. This coverage pays for court costs and attorney fees if you're found liable in an auto accident. In Michigan, the minimum coverage limits that people must purchase are $20,000 for each person killed or injured in an accident, $40,000 for more than one person killed or injured and $10,000 for property damage incurred in another state. You can always purchase additional coverage to raise the payment amounts. If you're sued due to the death of another person or people, and it's determined to be your fault, $20,000 or $40,000 may not come close to covering you for an eventual settlement or ruling. These "20/40/10" limits differ among states. Even in "no-fault" states, you can be sued in special circumstances, such as when death or serious injury occurs, when an out-of-state driver is involved or if you are involved in an accident in another state.
Pros and Cons
PLPD is basic coverage and, thus, cheap. It's the coverage most often purchased by first-time insurance purchasers, young people and other high-risk drivers. It satisfies legal requirements to operate a vehicle at the lowest cost possible (although prices for PLPD policies can vary widely among carriers). PLPD insurance is good for short-term coverage, for cars rarely driven and for older cars. On the flip side, PLPD coverage doesn't pay for repairing or replacing your car, and there are severe limits on basic payment amounts if you're sued.