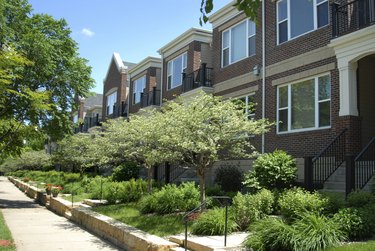 Homeownership has its tax benefits, but deducting homeowners association fees usually isn't one of them. Only landlords can deduct these fees as an expense of managing a rental property.
Fees and Taxes
Homeowners associations charge property owners fees or dues that cover the cost of community maintenance and upkeep. These fees include the cost of community administration, insurance, landscaping and maintenance of amenities such as pools, clubhouses and other common areas. According to the Internal Revenue Service, homeowners association fees are not tax deductible for owners who live in their homes.
For Landlords Only
If a homeowner rents her property to a tenant, the homeowners association fees for that property become "ordinary and necessary" expenses for the landlord business and are therefore tax deductible. Landlords should ask a tax adviser for clarification on this or any other rental income deduction.