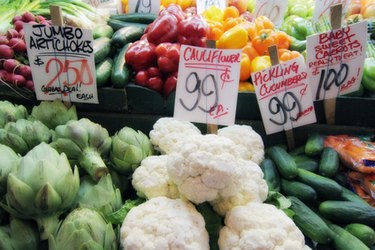 The Colorado Department of Human Services operates a food assistance program that provides money for food to qualifying individuals. Though many people still refer to this assistance as food stamps, today the benefit comes in the form of a card, which you can use like a debit card to buy qualifying food. The amount of assistance you receive depends on the size of your family and your income.
Paperwork
Department of Human Services personnel require you to provide certain documents and information to them to help them determine your eligibility. Before you visit the DHS office, assemble your paperwork to make the filing process go more smoothly. You'll need a driver's license or other picture ID to prove you are who you say you are. You must be a U.S. Citizen. If you were born in another country, bring your naturalization papers with you. If you're not a U.S. citizen but are in the country legally, you may still qualify for aid, so bring your Legal Permanent Resident card or other paperwork. Everyone in the household who is applying for benefits must have a Social Security Number, so have that information available. You also need to have proof of residency, such as mortgage papers, utility bills or a rental agreement.
Property
Persons under 65 can exempt up to $2,000 worth of personal property in the form of cash, real estate, bank accounts and other assets from the income calculations for determining eligibility. If you're over 65, the exemption climbs to $3,000. Some property isn't counted toward this money at all. For instance, funds in a employer-sponsored retirement account, such as a 401K, don't count against your eligibility, but Individual Retirement Accounts do.
Income
Colorado counts all kinds of income when determining eligibility, including income from pensions, unemployment benefits and jobs. However, if you and everyone else in the household are receiving Social Security Disability Income, you don't have to meet any specific income requirements. Benefit advisers will subtract your housing costs, utilities and some other bills from your gross income to determine a net figure on which they'll base their eligibility assessment.
Benefits
A single person with a monthly gross income of up to $1,174 and a net income of $903 in 2010 was eligible to receive food assistance. The maximum amount of assistance that one person could receive in 2010 was $200 a month. A family of eight could receive a maximum benefit of $1,202 a month, with a gross income of $4,010 and a net of $3,085.
Other Requirements
All adults receiving food assistance who are not disabled must work, apply for work, or be in a job training program. As part of your application for food assistance, you must enroll in Colorado's Employment First Program, which features job training and help looking for a job. If you receive an offer of a suitable job, you must accept it.