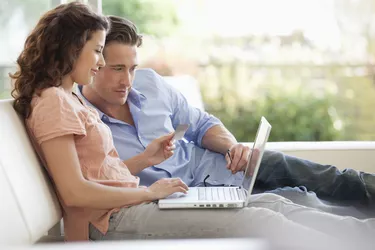 If you earn rewards points through one or more of your Visa cards, you don't get your points from Visa, which is a credit card network that includes a variety of banks that issue Visa cards. You earn your points from your card issuer, with different banks offering different rewards programs.
This means that the way you redeem points for one of your Visa cards won't necessarily be the same way for another card if that card was issued by another lender. Understanding credit card rewards points will help you determine which methods are best for your particular card.
Before you try to redeem points, visit the website of the Visa card issuer to learn what programs it offers and how to redeem those points. For example, some Visa card issuers let you redeem points for pre-selected goods and services, items you choose at Amazon, hotel, rental car and airfare reservations, dining or to pay down part of your card balance.
Different programs require you to follow different procedures to get your Visa extras, so you'll need to follow the directions on the website. If you're having trouble figuring out how to redeem your points for a particular program, you can call the customer service number on the back of your Visa card and ask a customer service rep for help.
Look for a Shopper Program
With shopper programs, you can often use your points to buy items selected by your card issuer. For example, Citibank has its Thank You Rewards program. You can browse this Visa reward points catalog and redeem your points to select specific items from the catalog.
If you aren't interested in those items, you can ask to have your points applied to your Amazon account. When you're ready to make a purchase on Amazon, you can use your points to pay for all or part of the item, depending on how many points you have.
Some cards require you to make these types of purchases with the card that has issued the rewards points. You will have to link your Visa credit card to your Amazon account and sync your rewards points. This will not only allow you to use your points on Amazon's website, but it will also show you how many points you have available when you log in to either your credit card online account or your Amazon account.
Some Visa reward cards let you use the points you've earned to pay down your card balance. Each card issuer has a different point system, so you'll want to familiarize yourself with how many points equals how many dollars available to apply to your monthly payment (or any time you want to make a payment). Be aware that when you transfer points to a third-party website for shopping, you might not get the same value as if you used the points with your card issuer's program, explains CreditCards.com. For example, you might be able to use your points to pay down $30 of your credit card balance, but when you transfer them to your Amazon account, you might only get $15 in points value.
Many Visa rewards redemption programs let you use your points toward airfares, hotels, motels, restaurants, parks and other travel-related expenses. Many are affiliated with a specific airline. For example, Chase offers a Southwest airlines card that earns you points you can redeem for airfares on Southwest airlines. In addition, if you pay for any or all of a flight using your Southwest card, you earn bonus points. Almost every airline has at least one credit card that offers travel points. If you fly a specific airline, look for a card that earns you points to travel on that carrier.
You won't be able to combine points from two different cards in one transaction because you have to pay the full amount of your airfare when you make a booking. For example, you couldn't pay for half your airfare with one credit card and redeem those reward points, then pay for the other half of your airfare with another card and redeem those points. You'd have to buy two, one-way airfares to do that.