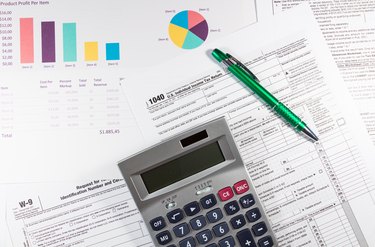 Tip
In order for an extension to be accepted, it must be paper filed or electronically filed before the April 15th deadline.
In most cases, your extension is limited to six months. Overseas filers are automatically granted an additional two-month period to file their returns.
Warning
An extension to pay is not an extension to file. Even if your extension to file is approved, it only mitigates the penalty for failure to file, not failure to pay. You should estimate the amount of tax you believe will be owed as a result of your return and send it to the IRS before the April 15 deadline. You can mail your payment to the IRS or you can make the payment online using the Electronic Federal Tax Payment System (EFTPS.gov). If you decide to mail your payment, then include your name, Social Security number, date of birth, home phone number and form series (1040 for individual filers) on your check or money order.
Securing an IRS extension of time to file your return can drastically reduce the penalties you will incur over time. Thus, an extension can also drastically reduce your stress during filing season by delaying the deadline for your return. If you've ever filed a late return, or you anticipate a late filing, then it is important to know the processes for determining if your extension has been approved.
Step 1
Call the IRS at 800-829-1040 to determine if your request for an extension was approved. The customer service representative will be able to advise you if the extension was received and approved. If approved, the extension you get by filing form 4868 will afford you an extension of time to file until October 15.
Step 2
Submit your extension electronically with your return before the April 15th deadline. Most online tax preparation software companies such as TurboTax and TaxCut allow you to file the electronic version of Form 4868 with your e-filed return. This way, once you receive the email confirmation from the IRS confirming receipt of your return, you will also be able to confirm receipt of the extension. You should receive an email confirmation within 72 hours of your return submission.
Step 3
Call the IRS International Tax Office at 215-516-2000 if you are out of the country and filed form 2350, Extension of Time to File U.S. Income Tax Return, instead of form 4868. You would only use form 2350 if you submitted form 2555 to claim foreign earned income.