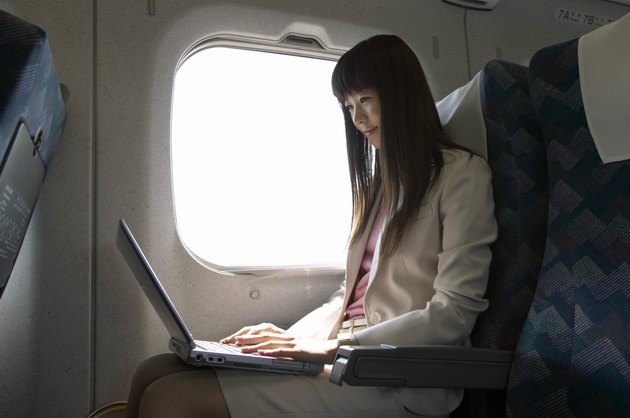 The differences in point systems and redemption rules among both airline-specific and bank-sponsored rewards credit cards can mean for some cardholders that redeeming air miles is more difficult than accumulating points. However, if you've recently gotten or are thinking of getting an airline miles rewards credit card, understanding the basics can make the process of turning points into tickets less onerous.
How Airline Credit Cards Work
Credit cards that offer airline miles give you points for each dollar you spend on eligible purchases. Although Top 10 Reviews reports that you can generally expect to get about one mile for every dollar spent, points can vary according to the type of purchase. For example, your card might give you two points for every dollar you spend on travel and dining, but only one point for groceries and clothing. Many cards also provide opportunities to earn double points during special promotions.
Review Exchange Rates and Rules
Visit the credit card company's website or contact customer service for the most current exchange information before booking a flight. Although Bankrate reports that a ticket for a round-trip domestic coach typically requires about 25,000 points, the exact number of points needed for a ticket can vary from day to day. In general, point requirements depend on advertised fares for a specific airline, as well as the destination, the day and time of travel and the fare class, such as first class or economy. In addition, both airline-specific and bank-sponsored cards may have exclusions and blackout periods that can limit your booking options. For example, you may not have the option to redeem points for special fares such as an unaccompanied minor or senior fare or for tickets purchased through a travel agent.
Book a Flight
Although airline-specific and bank-issued cards work in much the same way, one big difference involves partnerships. For example, many credit cards are valid for miles in the OneWorld, SkyTeam or Star Alliance groups -- partnerships that include a number of domestic and international airlines -- others, such as Southwest Airlines' card, have only one airline option. Search award space availability and book your flight via the alliance or airline website or via the telephone. According to the One Mile at a Time website, using the telephone is often a better option, as you may not find all available award spaces online. After you book your flight, your rewards account will automatically update to reflect your new rewards point balance
Helpful Tips
According to One Mile at a Time, the two best times to book a flight with rewards points are 10 to 12 months in advance or close to the departure date. The site reports that releasing more award space close to the departure date is a growing trend with many airlines. Also, your points will generally go farther with an international flight, so you may want to continue saving if you're planning an overseas vacation.