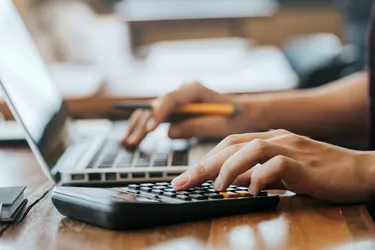 You can calculate the average share price of a stock in your portfolio in a matter of minutes if you have your transaction history and current share price. However, that might not help you much in terms of making investment or sale decisions. In addition to knowing your average share acquisition price, you might want to know your average share cost and value.
You can calculate the weighted average of your holdings, look at unrealized profits and calculate your costs to take your profits. Understanding how to calculate average share price is one small step to becoming a more informed investor.
If you're calculating average share ​price​, that's the average per-share price you paid for your stock. That's not its current ticker value, or the profit you'll get after you sell it, because you might have fees, commissions and capital gains taxes. You can compare the performance of your stock by looking at its current price and looking at the ​weighted average​ price per share you paid for it, if you made multiple purchases at different prices.
In addition to your stock price, you'll also want to know its ​cost​, which includes any transaction fees you had purchasing it, dividends you reinvested, returns from capital and capital gains, explains Janus Henderson Investors. This gives you the ​cost basis​ and helps you see what kind of profit you can make if you sell now.
If you buy 1,000 shares of a stock at ​$10​ and 10 shares of a stock at ​$40​, do you really want to treat all of those shares the same when looking at the average price you paid for your shares? For this reason, investors want to know the weighted average of their stock purchase because it gives you a more realistic picture of your average share purchase price. The weighted average doesn't give all shares of your stock the same value, regardless of when you purchased them and for how much.
When you buy more shares at a different price than you paid when you buy a few shares at a different price, this gets reflected in the weighted average, explains MotleyFool.com. To find the weighted average, you multiply the number of shares by the price you paid for that transaction, then add the number of shares you paid by the per-share price in your next transaction(s) and divide that number by your total shares.
In our example above, we'd start with 1,000 X ​$10​ = ​$10,000​ + 10 X ​$40​ = ​$400​ to get 1,010 shares at a total cost of ​$14,000​. Divide ​$14,000​ by 1,010 to get a weighted average share price of ​$13.86​.
What if you buy at three different times, purchasing three different amounts at three different prices? Let's say you bought 100 shares of a stock at ​$20​ per share, then bought 200 shares at ​$25​, then bought 150 shares at ​$30​. Your total investment for those 450 shares was $11,500, or 100 X ​$20​ ​($2,000​) + 200 X ​$25​ ​($5,000​) + 150 X ​$30​ ​($4,500​. Your weighted average share price to purchase your stock was ​$11,500​ / 450 = ​$25.56​ per share.
To reduce your tax liability, you can reinvest capital gains, gift stock or sell later. You pay different tax rates on short-term gains (those made in less than a year) than you do on long-term gains, for example. A tax adviser can help you decide on the best tax strategy to go with your investing strategy.