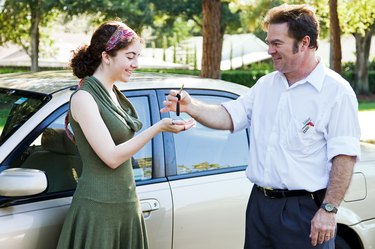 Although many states allow you to obtain a driver's license at the age of 16, it may surprise you to learn that you might not be able to purchase a car legally by yourself until you reach 18 years of age. This is generally because a juvenile or minor cannot enter into a legal contract. Laws do vary from state to state, however, so you may find that with a consent form signed by your parents you can still purchase a car, or your parents may agree to purchase and let you pay for the car, but you will not have full ownership of it until you have another birthday.
Step 1
Check with your local Department of Motor Vehicles to find out the minimum age requirement for the state in which you live. Inquire about whether your state allows you to purchase a vehicle if your parents sign a consent form.
Step 2
Determine how you will pay for the car. Remember to add in the cost of insurance, the vehicle registration and the title. Your parents will be more likely to consider your request to have them help you purchase a car if you can show them that you have thoughtfully planned how to pay for it.
Step 3
Talk to your parents about signing the legal documents for the car you wish to purchase. If you wish to finance a vehicle, you may find that you can be listed as a co-owner. Your parents, however, will still be the legal owners of the vehicle.