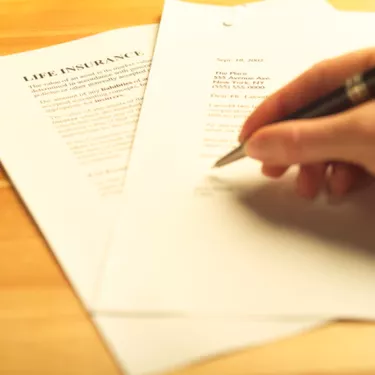 If your life circumstances change, you may decide to cancel a life insurance policy. If your life insurance is with Prudential, surrender is easy with the help of their surrender form. There are several reasons one might decide to cancel life insurance coverage, and it's important to understand what this means.
Why Surrender Life Insurance?
Life insurance is a type of insurance contract in which you pay an insurance company a premium on a regular schedule; in the event of your death, the company then pays a lump sum to your beneficiaries. If you're the primary breadwinner in the house, a life insurance policy will help take care of your beneficiaries after your death and give them time to adjust to the new situation.
"Surrender" is the financial term used when someone cancels their life insurance policy. There are a few reasons one might surrender a life insurance contract. The first motive is for the cash. Life insurance accounts are paid into by the owner over a period of time, and that value is then re-invested to grow. Sudden expenses in your life may prompt you to surrender your life insurance policy to get your hands on the cash balance; taking care of your family immediately may be more important.
Changes in your beneficiary situation can also cause account surrender; for example, if your children have become self-sufficient or your beneficiary may no longer need the money, you may decide to cancel the policy because it's no longer necessary. You might also decide to surrender one life insurance policy to pick up another – for example, if you have a new job that offers more affordable life insurance or if you find a policy that better suits your needs.
The Costs of Surrendering Life Insurance
When your policy is canceled for a cash-out, there may be several fees and charges for doing so, especially if you cash out on a policy early on in its life. According to Prudential, depending on what kind of life insurance account you have, surrender charges will apply to the first 10 to 20 years of your policy; the surrender fee percentage decreases over that period of time and will be subtracted from the lump sum in the account. There are additional administrative charges that can occur upon cancellation of your account as well. It's best to understand what fees apply to your type of policy before you start the surrender process and receive your cash surrender value.
In addition, since your remaining cash will be paid as income, you'll have to pay taxes on that money as well. Taxes will vary depending on your state of residence. You'll have to weigh these costs against your lump sum and choose the best path forward for your family. It's important to understand that surrendering your life insurance policy cancels any sum that would be paid to your beneficiaries upon your death.
How to Surrender With Prudential
Prudential offers an online surrender form for those who wish to surrender their insurance. Once you navigate to the form, you can fill in your information and submit it right from the company's website.
A Prudential employee will receive the paperwork electronically and process it and will contact you if they have any questions. If you prefer to surrender your account over the phone, use the information on their "contact us" page to determine which number you can call for assistance.