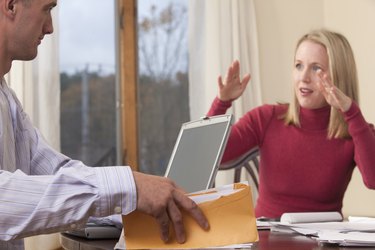 A broad form insurance policy offers protection from a wider range of perils than a basic policy, usually at a higher cost. For example, a basic auto policy might insure your vehicle against theft -- but to get coverage for vandalism, too, you might need a broad form policy. Be aware though, that even broad form insurance comes with limitations on what is and isn't covered.
Types of Policies Available
Broad form insurance policies, also called broad coverage, are written for general liability, homeowners, automobiles, renters and farm owners. Broad form personal theft insurance coverage can be placed on all of your personal property that also covers damages or losses from vandalism. Personal assets commonly subject to theft are normally covered, with limitations, under a homeowner's policy.
Why People Choose It
Businesses that provide company vehicles for employees use often choose broad form automobile insurance which allows a named individual to drive any of the company vehicles. Homeowners, car owners and renters choose broad form insurance to extend the coverage of a basic policy. Individuals will choose broad form coverage for the added protection when more expensive special-form, extensive or comprehensive coverage is unaffordable or unnecessary.
Coverage for Perils
Broad form insurance covers a list of perils in addition to the perils covered under the basic policy. These perils vary with the types of policies and insurers. Common perils with broad coverage include falling objects such as tree branches, damage caused by the weight of snow, ice and sleet, frozen plumbing and glass breakage. Coverage usually applies to property and contents. However, broad form insurance on an income property, such as a rental house, covers the property and owner's contents but not the tenants' contents. Tenants are responsible for obtaining liability insurance and insuring their own contents.
Some Hazards Excluded
Perils not listed in the basic policy or the broad form policy are excluded from coverage. The insurer will provide a list of perils covered by the broad form policy. If it is not on the list, you are most likely not covered. Even broad form policies may exclude high-risk events such as earthquakes in California, where earthquake insurance is a separate policy that insurers are required to make available to homeowners. Exclusions from a broad form policy may be covered under special form insurance.
Additional Cost
According to All Insurance Info, broad form coverage typically costs 5 percent to 10 percent more than a basic policy. A higher deductible will lower the premiums somewhat, but also requires more money on the insured's part when a claim is made.
Considerations for Buyers
You may need additional coverage beyond a broad form policy to insure against damages and legal liability for bodily injury and property damages. You may be able to have specific variations on your policy to cover damages to antiques or family heirlooms or breakage of bathroom fixtures. There is a specific type of broad form coverage written for mobile homes, as well. Broad form coverage is inferior to special form and extensive homeowner policies, which provide the broadest coverage of all homeowner policies.