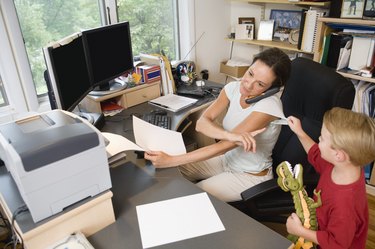 Parenting can sometimes seem like an endless array of expenses that leave your bank account teetering on the brink of an overdraft. The Internal Revenue Service offers taxpayers a break with the Child and Dependent Care credit. However, not all expenses qualify, and you and your spouse both have to prove your own eligibility as well as your child's.
Qualification Guidelines
For the child care expenses to be eligible, your child has to qualify. Your child has to be 12 or younger, and the child care must be provided so you and your spouse can work, or can look for work. If your child is in a qualifying aftercare program and turns 13 mid-year, you only can count the portion that covered him as a 12-year-old. Older children not physically or mentally able to care for themselves may also qualify. Your child must have lived with you for more than half the year. If you're divorced, you must be the custodial parent.
Earned Income
Because the credit is designed to make it possible for you to work, the IRS examines your earned income when determining eligibility. If you're married, at least one spouse must have earned income from a job or from self-employment. This could include wages, salaries, tips, earnings from self-employment, strike benefits or disability pay reported as wages. The other spouse may be exempt from the earned income requirement if he is a full-time student, but not both. If one spouse stays at home with the child, you're not eligible for the credit. A mommy-and-me class that you attend with your child would not be an eligible expense.
Provider Guidelines
You have to identify the child care provider on your return by reporting the name, address and tax identification number of the person or institution. The provider can't be a spouse, or someone you can claim as a dependent. It can, however, be a relative who is not a dependent. Day camp may be considered a work-related expense, but not overnight camp.
Maximum Benefit
Your child care credit is a percentage of your work-related expenses. The credit can cover up to 35 percent of your expenses, though the benefits depend on your adjusted gross income. If your adjusted gross income is $43,001 or higher, the percentage drops to 20 percent. The limit you can deduct generally is $3,000 for one child, or $6,000 for two or more. If you were reimbursed for any child care expenses, you can't count that portion when figuring out your deduction. For example, if you paid $5,000 for day care, and your employer reimbursed you for $2,500, only $2,500 can be considered.