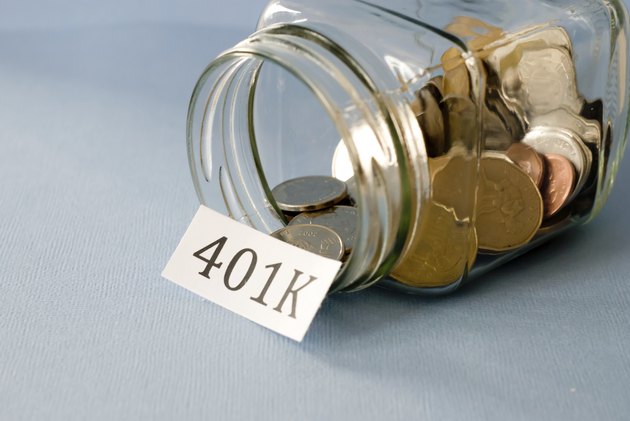 There's no law that prevents you from cashing out your 401(k) early, but there are taxes and penalties designed to make you strongly consider the consequences of doing so. Taking funds from your retirement plan early may help you pay your bills today, but it can lead to a leaner retirement tomorrow. As a result, you'll pay a heavy price for an early withdrawal.
High Price for Cashing Out
If you cash out of your 401(k) before you turn 59 1/2, your plan administrator will withhold 20 percent of the funds to pay your anticipated tax bill to the Internal Revenue Service. In addition, unless you qualify for an exception, you'll pay a 10 percent penalty. That can make the financial benefit far less than expected. A $10,000 early withdrawal, for example, will have $2,000 withheld for taxes and cost you $1,000 in penalties. That leaves you with just $7,000 – and possibly less. The funds will be taxed as ordinary income, so if your tax rate is higher than 20 percent, the withheld amount won't be enough to cover the IRS bill.
Penalty-free Options Limited
Some early withdrawals from 401(k)s don't come with the 10 percent penalty, but the exceptions are few. If you suffer a total and permanent disability, you're allowed to tap into your funds early. You can also use the funds to pay for unreimbursed medical expenses that exceed 7.5 percent of your adjusted gross income. The IRS can seize funds if it obtains a levy, and if it does so you'll at least be spared paying the 10 percent surcharge for the privilege. If you quit or are terminated from your job after age 55, you can make penalty-free withdrawals from the 401(k) associated with the job. Military reservists called to active duty also can access funds in certain situations. However, unlike with an IRA, you can't use them to pay for higher education expenses or for the down payment on your first home.
401(k) Loans
One alternative to cashing out is taking a loan from your 401(k). Not all plans allow them, but those that do often allow you to borrow up to 50 percent of your vested balance until you hit the maximum amount it permits. However, if you leave your job, whether the separation is voluntary or involuntary, the balance typically comes due immediately. If you don't pay the balance back within the specified period, that amount is treated as a distribution and subject to the 10 percent penalty and taxation as ordinary income.
Lost Earnings
In addition to the penalty and tax impact, you'll also lose the compounded earnings those funds would have generated over time, which may mean your retirement balance will suffer because of the early withdrawal. For example, an article on the U.S. News & World Report website notes that if a 30-year-old with $10,000 in a 401(k) account leaves the money in the account without any additional contributions, the account value will grow to $106,766 by age 65 if it earns 7 percent annual returns. But if the account holder withdraws the money at age 30, and is in the 25 percent tax bracket, he will only get $6,500 after taxes and penalties.