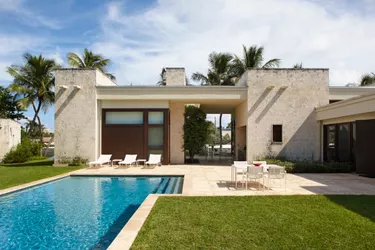 A warranty deed is one of three ways provided under Florida law to legally convey title to real property. Compared to the grant deed and the quit claim deed, the warranty deed is the most comprehensive deed under Florida state law because the warranty deed includes title guarantees that are not included in the other two deeds.
Identification
A deed is a legal document that transfers title to real property. The deed includes the name of the grantor and the grantee, in addition to a legal description of the property being conveyed. The deed also contains granting language that is the mechanism for conveying title. The granting language of the warranty deed is more comprehensive than the language in either a grant deed for a quit claim deed.
Significance
A warranty deed accomplishes two tasks. First, it conveys title from the grantor to the grantee. Second, it also provides a title guarantee from the grantor to the grantee. In essence, the grantor promises to the grantee that the grantor actually has valid legal title to the property. Florida state law provides that all warranty deeds including the same title guarantees.
Benefits
If the grantee later discovers that he does not have good legal title to the property conveyed under warranty deed, the grantee can sue the grantor to recover for damages caused by the detective title. Under a warranty deed, it is irrelevant whether the grantor actually caused the defect in title. This means that a grantor under a warranty deed makes a guarantee that no predecessor in interest to the property created a cloud or defect on the title to the property.
Procedures
Florida law requires the grantee to record a copy of the warranty deed in the local county land records office. Recording means paying a small fee and filing a copy of the warranty deed in the public records. This makes the warranty deed available for review by the general public. Recording protects the grantee's interest in the property.
Expert Insight
Although a warranty deed provides an opportunity for the grantee to seek recourse against the grantor if there is ever a problem with legal title to the property, most purchasers would still benefit from purchasing a title insurance policy on the property. Many grantors do not have the money to pay to defend the grantee's legal title or even to pay damages to the grantee. A title insurance policy can cover this gap.