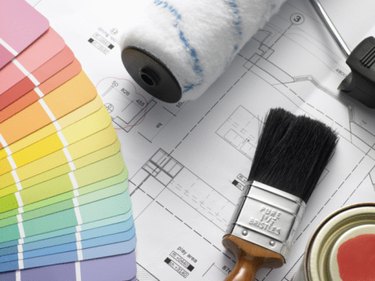 Decks transform a severely sloped backyard into a usable area for entertaining, cooking or just lounging around. A second-story deck takes advantage of views and sits among branches and leaves like a grownup's tree house. If your deck is getting a little tired looking, spruce it up without spending a small fortune.
Paint the Deck
A fresh coat of paint will brighten up the deck, but don't stop there. Partition the deck into rooms and paint a different, but coordinating "rug" on the deck to define each area. Keep colors in the same family, perhaps emphasizing one of the colors in each area. Dark colors will absorb heat during the summer while lighter colors will reflect heat, keeping the deck cooler.
Stain the Deck
A new coat of stain might be just the ticket to a newer looking deck. In most cases the deck will have to be power washed to get rid of dirt, dust and grime. Transparent stains don't add color or cover up the grain. Semi-transparent stains add a touch of color in wood tones. You still see the wood and the grain.
Paint the Railing
Depending on the building code of an area, decks above a certain height must have a railing. After several years, paint tends to peel from wrought iron railings. Wood railings darken with age. Painting the railing gives the deck a bright look without spending a lot of money. Sand any rust or splinters from the railing before painting. Paint the railings the same color as they were, a different color to contrast with the deck itself or paint each post or rod of the railing a different series of colors.
Add Containers
Fresh flowers and greenery give the deck a new atmosphere. Cluster containers to make a statement rather than spreading them around the deck in ones and twos. Use pot feet to get the pots off the decking. The water won't pool under the pots and damage the wood. Attach pots to the deck railing so plants trail over the edges. Use large pots with shrubs to provide privacy. Check the weight restrictions on the decking to make sure the extra weight of the pots won't be a problem. Coordinate the plantings on the backyard deck with the other flowers in the backyard.
Umbrellas for Shade
Adding a roof for the deck increases how much it will be used on bright hot sunny summer days. The problem is that a roof is expensive; even shade sails or awnings can be a bit much for a budget. Umbrellas are a solution that, while not cheap, won't cost a lot. As of October 2010, an umbrella and metal stand cost about $75. Buy three or four, and you've got shade for a crowd. The umbrellas can be moved to accommodate different activities as well.