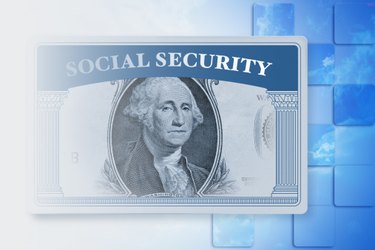 About 50 percent of marriages end in divorce, according to Centers for Disease Control statistics. Social Security provides retirement benefits to an ex-spouse whose marriage lasted 10 years or more, whether the ex-husband is living or deceased. An ex-wife can apply for retirement benefits based on the ex-husband's work history once he reaches retirement age and qualifies for benefits. You must be divorced two years or he must be deceased if he has not filed for his Social Security retirement. You must also be at least age 62 and unmarried to collect early retirement and you must be full retirement age to collect 50 percent of an ex-spouse's Social Security benefits.
Step 1
Assemble the information necessary to apply for benefits based on the ex-husband's work history and entitlement. You will need your Social Security number, his Social Security number, dates of marriage, marriage certificate and divorce decree. If you do not have his Social Security number, you will need his date and place of birth and parents' names. Collect available information prior to contacting Social Security but do not delay because you do not have all the paperwork. Social Security employees may be able to help.
Step 2
Open an electronic transfer account (ETA) with your bank for low-cost direct deposit. You can use your existing bank account number and bank routing number if you prefer. Benefits for a ex-spouse at age 62 range from 32.5 to 35 percent of the full retirement benefit of the ex-husband, depending on his full retirement age. Full retirement age is 66 for workers born between 1943 and 1954, and the early retirement benefit at 62 for the spouse or ex-spouse is 35 percent. Full retirement age gradually moves to age 67 for workers born after 1954. The Social Security early retirement benefit at age 62 for the spouse or ex-spouse of a worker whose full retirement age is 67 is 32.5 percent.
Step 3
Contact the Social Security office near you or call the 800 number to begin the application process. You can also apply online, but you will not get the assistance you receive from personal contact, or answers to questions. The ex-spouse's benefits must exceed your own entitlement for you to collect on his work history. Social Security looks at your entitlement first.
Tip
You can contact Social Security at 800-772-1213 to file for benefits or ask questions.
Things You'll Need
Social Security numbers

Proof of marriage

Proof of divorce

Birth certificate

Bank account