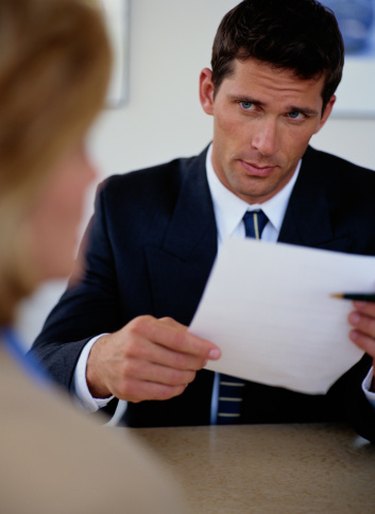 Many employers check potential new hires' criminal background. If you have a DUI in your background, an employer may choose not to hire you. You can lower your risk by being upfront with the employer at the right point in the interview process so that he doesn't encounter an unpleasant surprise when reading your background check.
Step 1
Purchase your background check from a reputable company such as Intelius.com and visit the Department of Motor Vehicles to purchase a copy of your driving record. Check these documents carefully to see if your DUI appears on your records. If it does not, you don't have to worry about it during the hiring process.
Step 2
Call the hiring manager to express interest in the job or send him a resume by fax or email. Do not mention your DUI at this point. Set up a face-to-face meeting with him to discuss the opportunity further.
Step 3
Talk to the hiring manager in person during your meeting. Do not focus on the fact that you have a DUI. Wait until you both feel comfortable with each other before you mention it. Bring it up as a concern you have and tell the hiring manager that you went through rehabilitation, attend Alcoholics Anonymous, or anything else that you do to help yourself avoid this situation in the future. If possible, talk to the manager about this before filling out the application.
Step 4
Fill out the application. Say "yes" when asked if you have a criminal conviction and write your explanation in the box provided. Summarize what you told the hiring manager about what you did to help yourself not drink and drive again.