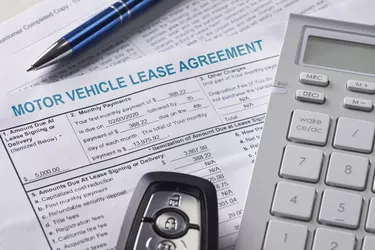 If you currently lease a GM vehicle and want to get out of the lease or not pursue a GM lease buyout, then you may qualify for a pull-ahead program to help you get out of your lease early and penalty-free. If you do not plan on purchasing or leasing a new GM vehicle, you may be subjected to early termination fees in addition to any payments still owed for the remainder of the contract. Know where to find lease-end options and how to go about executing any that might work for you.
Consider a Pull-Ahead Program
You'll want to call GM Financial or the financial institution responsible for managing your lease to find out whether any pull-ahead programs exist. A pull-ahead program allows you to end your lease from ​three months to one year early​ without penalty in the event that you buy or lease a new GM vehicle and use the same financial institution again. You can also contact a GM dealer – you can find phone numbers and locations from GM's main webpage by inputting your ZIP code.
Work with a GM dealer if a pull-ahead program is available to you. Find another vehicle that you want to lease or finance. The sales representative assigned to you will call the bank you lease through to confirm the pull-ahead program, and you can end your lease.
You'll need to sign new lease or vehicle paperwork to start your new lease or finance. The dealer handles your lease contracts and your motor vehicle paperwork. Fill out your lease return paperwork (ask for a copy before you leave) with your salesperson, who will transfer your plates to your new car before you leave.
Terminate Your Lease Early
You should first call your leasing bank to let it know you want to end your lease. Give the representative your account number and current vehicle mileage. Ask how much is due to end the lease early such as any GM Financial early lease termination fee.
Next, return your GM car to a GM dealership. The bank will pick up the car from the dealership at a later date for inspection. Expect to receive a bill in the mail for your charges and any wear-and-tear items as specified in your leasing contract.
You'll fill out the lease return paperwork with a GM dealer representative. Read it over before signing to make sure the correct odometer reading is reflected and that the amount keys you are returning is correct. Ask for a copy of the return sheet before leaving.
To proceed with a trade-in, call your leasing bank to find out how much it would cost for a dealer (not you) to buy out your vehicle; ask where you must drop it off if you decide to trade it in. This amount is double-checked by the dealer that you decide to work with. Use the figure as your trade-in payoff amount.
You can work with a dealer of your choice. You can trade your car in and roll over any additional balance towards a new purchase or lease, or put money down. Work with a salesperson for guidance and to find which new (or used) vehicle works best for you.
Purchase your new car, even if you finance or lease again at a different-make dealership. Drop your GM lease off at GM dealership or at the dealership you are trading in at, which you can do if the lease was through GM Financial and the current dealership also works with GM Financial. Fill out all lease return paperwork and get a copy of the return information.