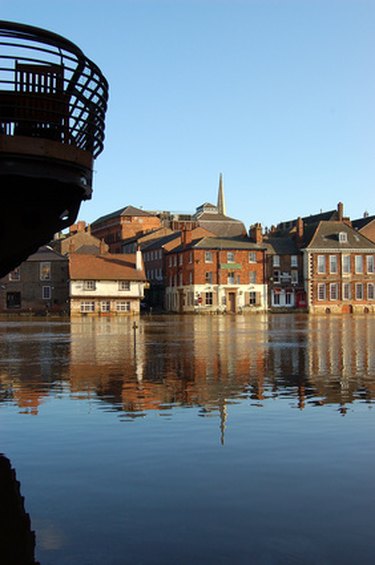 Homeowners' insurance won't pay a penny of the damages if your house is hit by flooding. Homeowners' policies exempt flood damage from coverage, which is why most homeowners at risk for flooding turn to the federal National Flood Insurance Program (NFIP) to buy it. As with a regular homeowners' policy, claims are limited by the size of the policy and the amount of the deductible.
Types
Homeowners' insurance covers both a building and its contents. With flood insurance, according to NFIP's Flood Smart website, owners can choose between a building-only policy, a contents-only policy or a building-and-contents policy. Unlike homeowners' insurance, which has one deductible for contents and building alike, flood insurance policies come with two separate deductibles, one for the structure and one for personal property.
Scope
According to Flood Smart, building coverage includes the building and its foundation, electrical and plumbing systems, furnaces, refrigerators, built-in appliances and permanently installed carpets and shelves, but not patios, decks, swimming pools and other outside features. Contents coverage includes furniture, electronics and other personal possessions but not money, precious metals or valuable papers such as stock certificates.
Size
Homeowners can buy coverage of up to $250,000 on their buildings and $100,000 on the contents, Flood Smart states in 2010. The deductible for each can be as high as $5,000. You are not required to choose the same deductible for both the building and the contents.
Commercial
Commercial properties can have both bigger policies and bigger deductibles, according to Flood Smart. The maximum for both buildings and contents is $500,000; the maximum deductible is $50,000, as of 2010.
Considerations
The higher your deductible, the lower your premium, but you should know how you'll pay for repairs before taking out a large deductible. Your mortgage lender could put a limit on how big a deductible you can accept, the Connecticut Department of Insurance states. Your house is collateral for the mortgage, so your lender wants to know any damage done will be repaired.