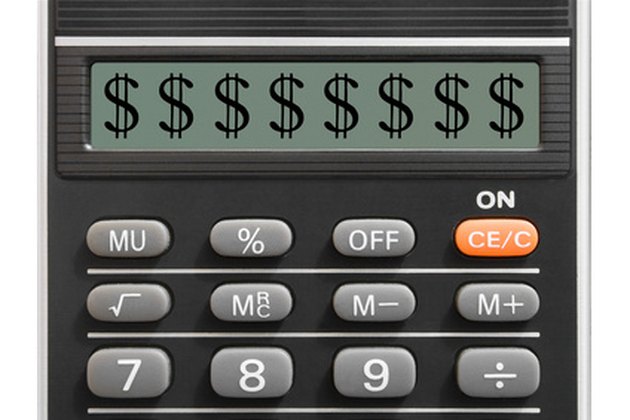 Circumstances may prevent you from filing your federal taxes by the April 15 deadline. If so, you must file Form 4868 to request a six-month extension. If you expect to owe taxes on this year's return, you are required to estimate and pay this liability to the IRS when filing Form 4868. An underestimation of taxes owed will accrue interest and a possible penalty. You must pay any penalties, interest and remainder of taxes before the end of the six-month extension. Properly estimating your tax liability before filing Form 4868 is crucial in preventing extra fees.
Step 1
Enter your personal information on Form 4868, including your name, address and Social Security numbers for you and your spouse.
Step 2
Compare your income and financial activity to previous tax years. If your income and living situation have not changed, you can expect to owe the IRS approximately the same amount as in previous years.
Step 3
Complete your tax return using estimates of your income. If you did not receive a Form W-2 or 1099 from an employer, use the information from your last check stub or bank records to estimate income and tax withholdings. Include all the income from the forms you received.
Step 4
Subtract your personal exemptions and standard deductions from your income. Do not itemize. If you are able to itemize, do so when you file your actual return. Taxpayers only itemize when their deductions are more than the standard deductions. Itemizing will reduce your tax liability, not add to it.
Step 5
Estimate your tax liability by using the tax tables on Form 1040 instructions. Enter this amount on Form 4868, Line 4.
Step 6
Enter your estimate of taxes already paid to the IRS. This includes any tax withheld from your W-2s and 1099s. Include any quarterly payments made for a business. Enter this amount on Line 5 of Form 4868.
Step 7
Subtract Line 5 from Line 4 and enter this amount on Line 6. This is the amount you must pay the IRS when filing Form 4868. This should be the amount you owe the IRS. If you cannot pay the entire amount, pay as much as you can and contact the IRS to set up a payment plan. This may prevent interest and penalties from accruing on your tax account.
Step 8
Enter the amount you are paying the IRS on Line 7. Check the box on Line 8 if you are out of the country. Check the box on Line 9 if you will file Form 1040NR for nonresidents or 1040NR-EZ and you did not receive any wages that are subject to U.S. income tax withholding.
Step 9
Write a check or purchase a money order for the amount on Line 7. Include Form 4868 with your payment. Make sure to file your taxes by the six-month deadline.
Tip
If the amount of your tax estimate is zero, there is no need to submit a payment with Form 4868. Keep in mind that this is an estimate and if a liability is found, you must pay the taxes, interest and penalties accrued.
Things You'll Need
Forms W-2 and 1099

Previous year's tax return

Most recent check stubs