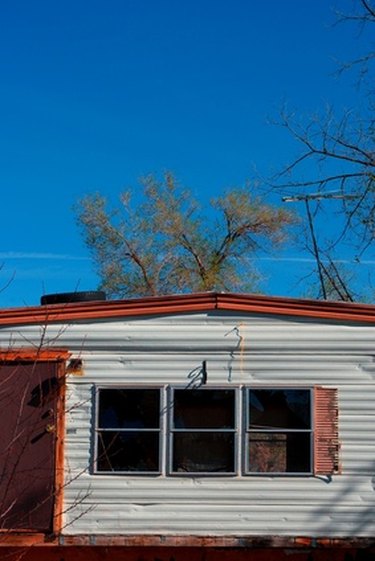 Make improvements to your mobile home just as you would a standard house. Whether you can afford to spend $100 or $1,000, create a budget and stick with it. Regardless of the money involved, there are several ways to make your mobile home a comfortable place to live. If you want to make large changes, such as building on sizable porches or rooms, purchase materials you can easily store while you slowly purchase more and begin construction when you have enough. If purchased over a long period, even large remodels can be budget friendly.
Floors
If you have bad carpeting, opt for painted wood floors instead of expensive replacement carpets. Search the Internet for free stencil patterns and ideas. Create faux hardwood planks by using a ruler and tape to block off the desired size and number of planks. Carefully shading between each board and applying a wood-grain finish will add depth and make the planks seem realistic. Apply a few coats of high traffic polyurethane to seal the paint job. Once a year or when wear begins to show, it is a good idea to lightly sand and reseal with a fresh coat of polyurethane.
Countertops
Mobile homes often have Formica countertops. Older homes usually have chipped, stained, scratched and burned Formica. Repair your countertops inexpensively with paint and wax. Once roughed up with sandpaper and cleaned, draw designs of your choice with a pencil. Achieve an elegant marbled surface by painting a basecoat and then using varying lighter shades to smudge throughout. Use a toothpick dipped in paint to draw fault lines through the "stone." Once finished, a layer of polyurethane seals the artwork while bringing out the colors of the paint. Apply a thin layer of wax to seal out water spots. Once a year, it may be necessary to lightly sand and reseal the countertop.
Walls and Windows
Mobile home walls usually have paneling. In older homes, this paneling is often dark, making an already small space seem smaller. Try adding wallpaper to the top half of the walls. Separate the bottom and top with painted or stained pine board trim. Instead of costly wallpaper, try using recycled brown paper bags. Once crumpled and moistened, they take on a weathered, leathery appearance. This paper can be painted or even stained, depending on your personal preference. Use wallpaper paste to adhere the pieces to your walls. Pine boards are inexpensive and give the room a finished "house" feel. You can paint the bottom wall to resemble clapboard walling, just like in old farmhouses. It is best to tear the bags so that no straight edges remain--this gives a softer, polished look to walls. For window makeovers, try using window paint to create faux stained glass. Use stencils or freehand designs. This paint is removable if you mess up or change your mind.