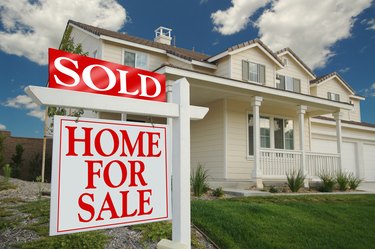 Few costs in life are more expensive than buying a house. Between the down payment and closing costs, you can easily spend tens of thousands of dollars to close on a home. Consulting your lender and tallying the fees of all service providers in your transaction helps ensure you have the necessary funds needed to buy a home. The exact amount of money you must bring to the closing table depends on the home price, lender fees and the terms of your purchase agreement.
Making a Good Faith Deposit
Your purchase may involve costs that are due up front. For example, sellers typically require an earnest money or good faith deposit within a few days of offer acceptance. The amount of the earnest money deposit typically ranges between 1 percent and 3 percent of the offer price and varies by market. You deposit the money into a third-party escrow account or a broker's trust account. Regardless, the money remains in the escrow account until the escrow holder is instructed to put it toward your down payment and closing costs, or releases it to seller. This may happen if you back out of the deal and the seller is entitled to keep your deposit.
Determining Your Down Payment
Your down payment is proportionate to the mortgage amount you finance and your lender can give you the down payment requirement for your loan. For example, if your mortgage requires a 20 percent down payment and the home you want to purchase has a price of $200,000, you need a down payment of $40,000. Mortgage down payment requirements vary by lender and loan type and can range from 3 percent to more than 25 percent. However, certain loans, such as Veterans Affairs and federally backed rural home loans do not require a down payment.
Covering Your Closing Costs
Closing costs usually range between 2 percent and 5 percent of the home price. They include lender fees and third-party fees. Examples of lender fees include:
loan origination or points; a point equals one percent of the loan amount
credit report
appraisal
application fee
escrow or impound account reserves for the payment of property taxes and homeowners insurance.
Third-party fees include: escrow title attorney notary recording prepaid homeowners insurance * prorated taxes.
Bankrate reported that in 2014, the average closing-cost amount for a $200,000 mortgage with a 20 percent down payment was $2,539.
Lowering the Cost of Homebuying
You can reduce the amount needed to by a home. Ultimately, the amount you save on the earnest money deposit, down payment and closing costs depends on your qualifications as a mortgage borrower and your ability to negotiate with the home seller. For example, lenders offer the most competitive interest rates, loan terms and fees to prime borrowers. A credit score in the high-700s, a down payment of 20 percent or more, and a good income can keep your costs down. If you want a low down payment, opt for a Federal Housing Administration loan, which requires 3.5 percent, or a conventional loan which requires as little as 3 percent for first-time buyers.