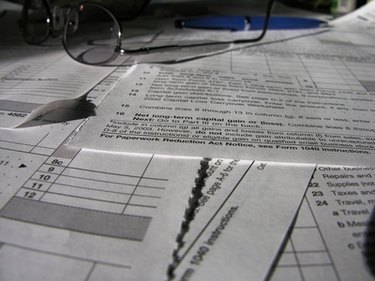 Form 940 is the Employer's Annual Federal Unemployment (FUTA) Tax Return filed every January to report the amount of unemployment taxes paid by employers to their employees during the tax year. All employers are required to pay unemployment taxes on their employees for the first $7,000 of wages for each employee. Wages over $7,000 are exempt from unemployment taxes.
Step 1
Enter your employer identification number, name and address at the top of Form 940. In the following section, you need to report in which state or states your business paid unemployment tax.
Step 2
Enter employee payment information in Part 2. Enter the total amount of income you paid to all of your employees during the tax year on line 3. Next, enter exempt wages on line 4 and choose the box that best represents why these wages are exempt from unemployment tax.
Calculate the wages you paid to each employee in excess of $7,000 and put the information in line 5. For example, if you paid two employees during the year and each had annual wages of $20,000 you would subtract $7,000 from each of their gross wages and enter the excess on line 5, which is $13,000 per employee, or $26,000 total. Add lines 4 and 5 and enter into line 6. Subtract line 6 from line 3 and enter the total on line 7. Multiply line 7 by .006 and enter on line 8.
Step 3
Calculate your adjustments in Part 3. If the amount on line 8 was excluded from state unemployment taxes, then multiply the amount on line 7 by .054 and enter the total on line 9. If only some wages were excluded, then fill out the worksheet provided in the Form 940 instructions for line 10.
Step 4
Add together the totals on lines 8 through 11 and enter the total onto line 12. Enter the amount of unemployment taxes you deposited throughout the tax year online 13. Subtract line 13 from line 12 and enter the amount on line 14.
You are required to deposit 940 taxes to your bank if the amount on line 14 is more than $500. If it is less, you may send a check with your unemployment Form 940. If the amount on line 13 is larger than the amount on line 12, subtract 12 from 13 and enter the total on line 15, which is your overpayment. This amount will be refunded to you if you do not check the box marked "Apply to next return".
Step 5
Enter the amount of unemployment tax for each quarter in Part 5. Add the amounts from all four quarters and enter the total on line 17. Line 17 must be the same as the amount on line 12. If it is not you have made a mistake somewhere on your return and will need to re-calculate your unemployment taxes. Fill out Part 6 only if you wish the IRS to speak with a third party.
Step 6
Sign and date Form 940 and mail it to the IRS using the address for taxpayers of your state, which is listed on the instruction forms. Use the voucher for 940 if you have a payment due.