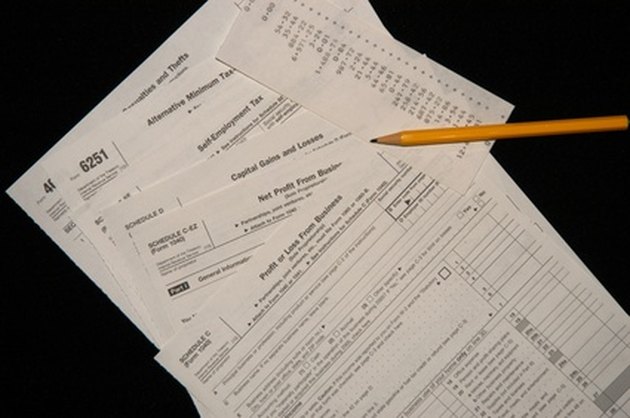 The Internal Revenue Service requires that 1099 documents be submitted for all types of income outside of salary, wages and profits earned by businesses and independent contractors. Vendors, people who are licensed to sell various items, are often considered self-employed, independent contractors. There are a variety of 1099 forms that a vendor could be liable for submitting.
General Requirements
A vendor who receives a 1099 form or who sends one out must report this with the IRS. Vendors must file all 1099s with the IRS by Feb. 28 of every calendar year (not the vendor's fiscal year). Vendors must send 1099 forms to their recipients (with whom the vendors have done business) by Jan. 31. If filed on paper, each 1099 form must be submitted to the IRS with a 1096 form. A 30-day extension for filing with the IRS may be obtained by filling out Form 8809.
Electronic Filing Requirements
Vendors may also submit 1099 forms electronically and in some cases are required to. If a vendor is sending out more than 250 forms of any one type (1099-A, 1099-C, for example), those forms must be submitted electronically. If fewer than 250, paper forms are acceptable. Using 1096 forms is not necessary if a vendor files electronically. The deadline for electronic filing is one month after the paper filing date, March 31. A vendor must first submit Form 4419--Application for Filing Information Returns Electronically at least 45 days before the due date of the forms.
1099-MISC
The 1099-MISC form is particularly useful to vendors because it is the official form used for reporting direct sales of at least $5,000 of consumer goods. The form is also used to report rent or royalty payments, prizes and awards for contests, coin-operated machine income, income from nonqualified deferred compensation plans, payments to physicians or health providers, proceeds paid to attorneys and several other types of income. In most cases, a 1099-MISC is only needed if the amount in question is above $600.
Other 1099 Forms
There are several other forms that a vendor may be required to submit. These forms include: 1099-C for cancellation of debt owed to a financial institution or the federal government, 1099-S for proceeds from real estate transactions, 1099-A for abandonment or acquisition of secured property, 1099-B for proceeds from sales or redemption of securities, 1099-G for certain government payments, 1099-H for health insurance premiums, 1099-DIV for dividends and distributions from securities, 1099-INT for interest income and 1099-SA for distributions from health savings accounts.
For forms 1099-C, 1099-MISC and 1099-S, filing is required only for amounts of $600 or more. For forms 1099-G and 1099-DIV, amounts above $10 must be reported. For forms 1099-A, 1099-B, 1099-H, 1099-INT and 1099-SA, all amounts must be reported.