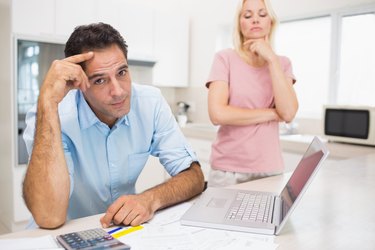 The Internal Revenue Service can issue fines for failing to file personal or business taxes on time, failing to file them at all, and failing to pay what you owe. You can get penalties and interest reduced or waived, but only for reasonable cause.
Making the Case
The IRS considers "reasonable cause" things that were out of your control. That includes incidents that might cause a delay in filing your taxes, such as a serious illness, natural disasters, bad advice from a tax adviser or having important financial documents destroyed in a fire. To request a waiver, complete IRS Form 843, Claim for Refund and Request for Abatement, and mail it to the address indicated. The form asks for basic information such as the filing year the penalty was for, the type of tax and why you believe your fine should be waived. Attach copies of any documentation you can provide.
First Time Abatement
You or your business might also qualify for the IRS's First Time Abatement waiver if you haven't had any significant IRS penalties in the prior three years. The IRS has its own criteria for what it considers "significant," although it typically does not consider penalties for nonpayment of estimated taxes as significant. You could receive an abatement if, for example, you failed to file or pay your taxes as a result of a serious illness. To request the waiver, call the phone number on the letter notifying you of your fine. You might also have to write a letter explaining your situation.
Appealing a Denial
The IRS typically responds within 60 days of receiving waiver requests. If you're denied, you can write to the IRS with any additional information and documentation. You can also appeal to the IRS Office of Appeals, which acts as a neutral party in making decisions.