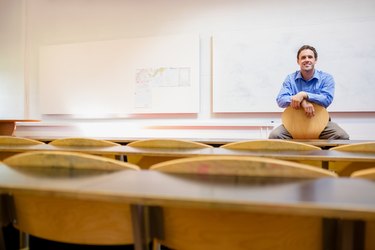 The state of North Carolina offers teachers, state employees, legislators, members of the state judicial system and local government employees a choice of retirement savings plans, as of 2014. Workers can choose a deferred-compensation retirement program that allows pre-tax contributions to be held in a retirement account invested by the state, called NC 457. An NC 457 Roth became available in April 2011. Both 401(k) and 401(k) Roth plans also are available and rely on private investment fund managers. A 403 (b) plan is available for teachers when their local school boards agree to participate.
Pre-Tax Contributions
Under either pre-tax NC 457 or the 401 (k) plans, funds are taxed when the money is withdrawn. Withdrawals can be made without penalty after the age of 59 1/2, unless you are a state employee who contributed to the system before 1989. Following a court case, it was decided that state taxes would not be taken from retirement payouts if those employees had accumulated at least five years of service before 1989.
Taxes After Retirement
When employees opt for a Roth retirement plan, taxes are paid prior to the contribution. When the money is withdrawn, no taxes are taken out. Penalties of up to 10 percent also are attached to Roth retirement funds if withdrawn before the investor reaches the age of 59 1/2.