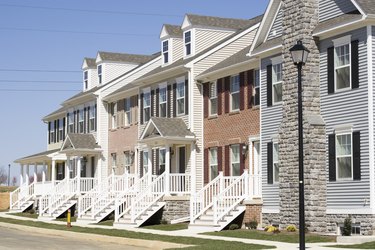 Town homes are residences similar to single-family detached homes or condominiums, though they're attached to each other on one or more sides. There are also differences between town homes and condos, in that town homes aren't built above or below each other. In many cases, small yards or patios are also included in the "footprint" or spaces that town homes occupy. Because they're relatively more affordable than single-family homes, town homes are also an increasingly popular option for home buyers.
Affordability of Town Homes
The affordability of town homes varies depending on whether they're rented or owned. Town homes are generally less expensive than single-family homes to purchase, making it easier for singles, older individuals or first-time buyers to own their own residences. Town home rents are normally more expensive compared to apartments or condos because they're typically larger, multi-level properties. Homeowner association fees or dues, to cover items such as trash pickup, community swimming poos and common grounds maintenance, are typically part of a town home's expenses.
Maintenance of Town Homes
Homeowner association fees common to town home communities usually cover exterior grounds and building maintenance needs. In most cases, town home HOAs are tasked with maintaining property exteriors and grounds. As with condo communities, town homes normally contain communal outdoor areas that are also covered by owners' HOA dues. To some town home owners, freedom from yard work may be a key benefit. But if cutting your grass or tending a garden is something you like, town home ownership may not be for you.
Town Home Living Spaces
Town homes are normally larger than apartments or condominiums and can equal some single-family homes in size. Interior differences between town homes and single-family homes are almost nonexistent. Homeowners desiring empty space around their properties, though, should consider single-family homes rather than town homes. Middle-row town homes also have no side windows to let sunlight in and corner town homes have windows on only one side. Parking can be scarce in town home communities, especially when designated resident and guest parking spaces aren't assigned.
Town Home Neighbors
Town homes share at least one of their sides with neighbors. Because you share one or more of your town home's sides with neighbors, noise may be more of a nuisance in comparison to single-family homes. Even if you have very quiet fellow town home neighbors, televisions, stereos and other devices may sometimes be heard through the walls. Living in a single-family home rather than a town home does allow you the luxury of putting some space between you and your neighbors.
Town Home Security
Town homes are frequently located within gated communities and may even have on-site security staff. In town homes, next-door neighbors are located so close by it's sometimes difficult for burglars to stealthily enter or for serious crimes to occur within the community. A great many town home communities also pride themselves on the amenities they offer residents. Town home shared amenities such as parks, swimming pools and community rooms can also increase a shared sense of community among residents.