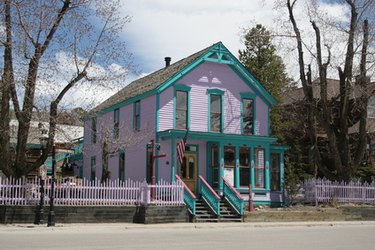 Most people come to a time in their lives where they want the extra space that home ownership affords, but they don't have the extra cash they need up front to make the purchase. In Canada, you can borrow money from banks and other commercial lending institutions to cover the cost of a home, and pay the principal back over time with interest. These loans are called mortgages. The process for getting one is much the same as it is in other countries, but Canada does have some special rules governing mortgages and the conditions that commercial banks are allowed to offer.
Saving for the Down Payment
Before a bank will lend you money to buy your home, you need to do a bit of work on your own. By law, you need to supply your own money upfront before you can qualify for a mortgage. You need to have a down payment saved--a specified percentage of the total value of the mortgage. It's standard to require a 20 percent down payment, but you can qualify for a mortgage with as little as 5 percent saved. If you want to put up a down payment lower than 20 percent, you'll need to pay for mortgage loan insurance. If for some reason you default on your mortgage, the insurer assumes responsibility for the loan and pays the outstanding principal and interest. According to the Canadian Mortgage and Housing Corporation, insurance fees can be paid all at once or added on to your monthly mortgage payments.
Getting Pre-Approved
After you've done your own research about lenders and considered what you can afford, you can select a lender and ask to get preapproved for a mortgage. The lender will examine your financial situation and credit history and decide the maximum mortgage that you can afford, agreeing in advance to lend you up to that amount when you decide to purchase a home. Getting preapproved can help you go into the housing purchase process with a clear budget in mind, and avoid the unpleasant surprise of putting in a generous offer, only to find that your bank won't back you with the funds you need.
When you meet with your bank to discuss preapproval, Canadian lenders will want to see identification, a letter from your employer confirming your salary, information about bank accounts, debts and assets, evidence of any other sources of income and proof that you can afford to pay closing costs (which are between 1.5 and 4 percent of the price of the home purchased).
Your Credit History
Lenders won't grant you a mortgage if you don't have proof that you can responsibly handle and repay bills and debts. Your credit history shows how you've used credit in the past, whether lenders have had issues collecting from you and if you've neglected to pay bills and fulfill contracts with other parties. In Canada, TransUnion of Canada and Equifax Canada Inc. can give you a full report of your credit history for a nominal fee. Use these services to make sure that your credit history is accurate before applying for a mortgage because history blemishes can lead to loan rejections.
Subprime Mortgages and Tax Deductible Debt
When housing prices tanked in the United States, an aftershock rippled through the Canadian economy that depressed housing prices. Nevertheless, the Canadian housing market didn't suffer the same strong blow as its American counterpart. Virginie Traclet, a researcher from the Bank of Canada, suggests that the difference is partially due to tighter mortgage regulations. In Canada, debt from mortgages can't be deducted from income taxes, reducing the incentive to take on unmanageable debt. In Canada, subprime loans, which were a large factor in the housing market crash in the United States, never accounted for more than 5 percent of all mortgages.
Other Canadian-American Differences
In Canada, more of your assets are up for grabs if you fail to make your mortgage payments. According to the "Wall Street Journal", Canadian lenders can seize a borrower's other assets, including savings account balances and cars, if a borrower defaults on her mortgage. In the United States, restrictions on what lenders can take in the event of a default are stricter. Mortgage insurance, required in Canada for people who contribute smaller down payments, isn't mandatory in the United States. Finally, Canadians have less flexibility in the structure of their mortgages. Most have five-year fixed-rate terms, and borrowers face the possibility of higher interest rates when their mortgages are renewed.