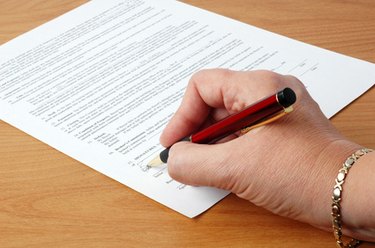 Employers offer voluntary life insurance so that all employees have the opportunity to purchase the amount of insurance that they need at a group rate. All groups that offer voluntary life insurance also offer basic term insurance normally paid for by the employer. The basic insurance is either a multiple of the employee's wages or a specific amount such as $10,000.
Types
Both voluntary life insurance and basic life insurance are offer through your employer, and they are both term insurance. Term insurance is available through personal purchase also. It's far more inexpensive than whole life, variable life or universal life policies that offer a cash value.
Function
Just like any type of life insurance, voluntary life offers a death benefit. Often, because you receive group rates, it's far cheaper than term you could purchase outside your employment.
Size
If you have health issues and have the opportunity to purchase voluntary life insurance, there's often a high guaranteed issue amount, sometimes as high as $1,250,000. This means you don't have to answer health questions to receive coverage. Normally a lesser guaranteed amount is available for spouses and children. Term insurance independently requires that you answer health questions when the amount is that large.
Benefits
In many cases, if you leave your employer, you can take the coverage with you as term, but normally it's converted to a higher-cost whole life policy. In some policies, whether voluntary life or term you purchase on your own, there's an accelerated death benefit. That means that if you find you're terminally ill with less than a year to survive, you can use as much as 75 percent of the death benefit for any use you desire before you pass away. The balance of the funds goes to your beneficiaries. Both personally purchased term and voluntary life often have a waiver of premium benefit that pays the premium if you're disabled.
Misconceptions
While there is a guaranteed issue amount on most voluntary life insurance, larger amounts or amounts purchased after the enrollment require that you answer medical questions and sometimes take a physical. The procedure is the same as when you purchase term insurance on your own.
Expert Insight
Voluntary life insurance is one method of purchasing additional insurance at a lower rate. Regardless of how inexpensive the plan seems to be, always compare rates with traditional term insurance you can purchase outside of your employment. You may find some lower prices if you're in excellent health. The conversion rights on independently purchased term insurance allow you to convert to any type of policy offered by that company. Some voluntary life insurance is only convertible to one type of whole life plan offered by the carrier, which normally costs more money. However, if you have any health issues, it's always best to purchase the maximum amount of voluntary life insurance as you can get without answering health questions.