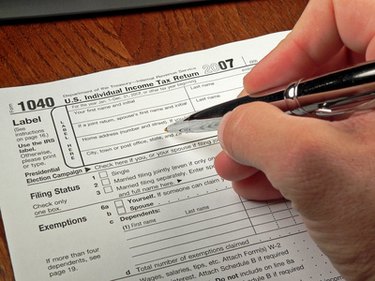 Prior to and including the 2004 tax year, the Internal Revenue Service granted four-month automatic extensions of time to file your individual income tax return when requested on Form 4868. An additional two-month extension could be requested on Form 2688. However, as of the 2005 tax year, the automatic extension granted by filing Form 4868 became six months, with no additional extensions given for the average taxpayer. There are two exceptions to this policy. Members of the Armed Forces or U.S. citizens living abroad are subject to different regulations for obtaining extensions of time to file. Both groups have an additional two months to file returns without the need of requesting an extension, making their due date June 15 rather than April 15. If qualified, additional time can be granted.
Step 1
Attach a statement when you file your return showing that you meet the qualifications for the automatic 60-day extension No additional forms are required. Members of the military who are serving abroad and whose tour of duty includes the normal due date for filing a tax return need only include this letter if filing by June 15. Citizens living abroad should attach a letter detailing their residency period and address.
Step 2
File a Form 4868 prior to June 15 to request a four-month automatic extension if you need additional time to file. File your tax return on or before October 15 to keep within terms of this extension.
Step 3
Mail a letter to the IRS by October 15 if you are a U.S. citizen living abroad and need to request an additional two months to file your return. The letter must include the reason you need the additional time. Approval of the extension is not automatic but is entirely at the discretion of the IRS.
Tip
Members of the Armed Forces serving in a combat zone or contingency operation can receive additional extensions of time to file of six months plus the time remaining to file the return prior to deployment. This extension begins once the deployment ends. See the IRS Publication 3, available at the IRS website, http://www.IRS.gov/pub/IRS-pdf/p3.pdf, for complete details on this extension and other tax information specific to your situation.
Warning
An extension of time to file is not an extension of time to pay. Late payments may be charged interest.