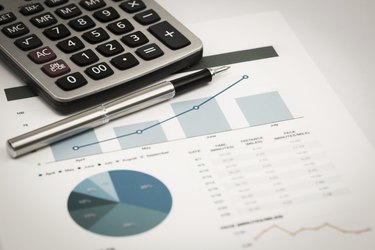 Constructing a list of the best performing mutual funds results in an arbitrary compilation if evaluating criteria are not uniform. For example, one analyst may look solely at recent returns, while another looks at long-term performance, and a third analyst values expense ratios and diversification as the top factors in grading performance. When examining a list of top performers in mutual funds, rating factors must be taken into account. It is also important to remember that the investing axiom "past performance is no guarantee of future returns" applies to all investments.
Top Performer
Staying within U.S. equity and taxable bonds, the top 10 mutual funds based on 5-year returns from April 20, 2009, to April 30, 2014, includes large-cap, mid-cap and small-cap funds, as well as blends. All 10 carry Morningstar ratings of either four or five stars. A large-blend mutual fund, which is one that invests in both growth and value stocks, tops the list of performers. PIMCO Fundamental (PIXDX) produced returns of 30.5 percent over the 5-year period. This fund invests in derivatives based on large U.S. stocks, corporate bonds and government bonds.
Second, Third and Fourth
The Matthew 25 Fund (MXXVX) is the second-best performer based on 5-year returns, earning 30.2 percent for the period. This fund's top holdings are in large-growth stocks such as Apple Inc, Cabela's, MasterCard, FedEx and Google. An initial investment of $10,000 in April 2009 would have grown to $37,414 by April 30, 2014. In the No. 3 spot is Huber Capital Small Cap Value Fund (HUSIX), which invests mainly in small-cap stocks. This fund earned a 29.05 percent return for the 5-year period. A fund investing primarily in mid-cap value stocks, Hotchkis and Wiley Value Opportunities (HWAAX), comes in at No. 4, producing returns of 28.99 percent for the period.
Fifth, Sixth and Seventh
At the fifth and sixth spots are two small-blend funds, Hodges Small Cap Fund (HDPSX) and PIMCO Small Cap Stocks (PCKDX). HDPSX produced a 5-year return of 28.83 percent; PCKDX earned 27.37 percent over the same period. The seventh place in top performers was held by Rydex Series S&P 500 Pure Value Fund (RYLVX). This fund attempts to mirror earnings of the securities within the S&P 500 Pure Value Index and produced returns of 26.92 percent during the 5-year period.
Eighth, Ninth and Tenth
A third PIMCO fund in the top 10 best-performing mutual funds comes in at No. 8. The PIMCO StocksPL US Absolute Return Fund (PSTDX) produced returns of 26.05 percent for the 5-year period. The No. 9 spot was held by AMG Managers Skyline Special (SKSEX), a fund that invests primarily in small value stocks and earned 25.37 percent in the 5-year returns. Rounding out the top 10 is Marsico Flexible Capital Fund (MFCFX), which invests mainly in large growth stocks. MFCFX earned returns of 25.21 for the 5-year period.