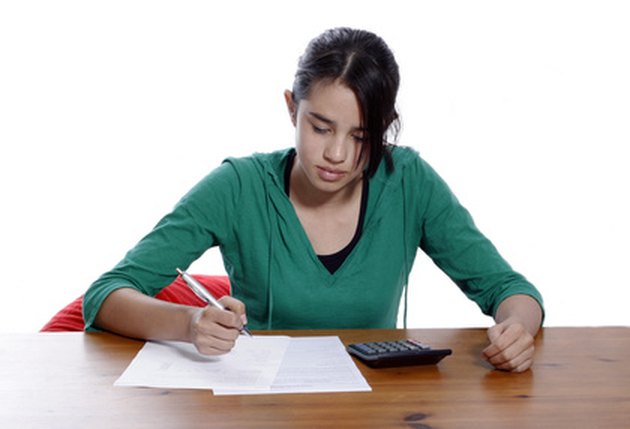 A form 1098-T is a Tuition Statement issued to a student each tax year by an eligible educational institution such as a college or university. The form is an informational document that identifies student tuition or educational expenses that can be used in conjunction with what the Internal Revenue Service terms the "American Opportunity Credit". Claiming this or any other educational credit is not mandated. It is strictly a voluntary action.
Purpose
The form 1098-T is used by the student or whoever pays the qualified tuition or educational expenses to claim a credit to taxes filed on IRS Form 1040 or 1040-A. The form will show the student's name, address, social security number and other identifying information. Dollar amounts shown include payments received by the institution, amounts billed, prior year adjustments and scholarships or grants along with related prior year adjustments.
Considerations
The amounts shown on the 1098-T may differ from the students actual educational expenses. It is important to note that the student can only claim the tax credit for actual tuition or educational expenses paid during the tax year. If the student is a dependent of another individual making the payments, only that person making such payments can claim the credit.
Exceptions
There is a relationship between the Modified Adjusted Gross Income (MAGI) of the claimant and what credit amount can actually be claimed. The American Opportunity Tax Credit is gradually phased out if a claimant's MAGI is between $80,000 and $90,000 or $160,000 to $180,000 if filing jointly. Claimants are not eligible for the tax credit if their MAGI exceeds $90,000 or $180,000 respectively.
The maximum amount of educational expenses eligible for this tax credit is $4,000. The actual credit is computed at 100 percent of the first $2,000 and 25 percent of the next $2,000 or a maximum credit of $2,500.
How to Claim the Credit
To claim an educational tax credit, a claimant must prepare IRS form 8863, Educational Credits and submit it along with his 1040 or 1040-A Federal Tax Return. Both refundable and nonrefundable amounts are transferred from the form 8863 to the 1040 or 1040-A. The information shown on the form 1098-T can be useful in the preparation of form 8863.
Warning
There are definite restrictions and eligibility requirements the claimant must first review to determine qualification for the refundable portion of the tax credit. Claimants are urged to reference Internal Revenue Service (IRS) Publication 970 which can be viewed or downloaded in Portable Document Format from the IRS website.
Tax Benefits for Education can be very complex so claimants are urged to review Publication 970 thoroughly with regard to this tax credit and possibly others for which they may be eligible.
Tip
State and local income tax agencies may also provide educational tax credits. A claimant subject to state and local income tax should check to see if educational credits exist and how to apply for them.