When you receive a paper check from the government, you have several options for cashing it. Regardless of your preferred method, you need to endorse the back of the check and show at least one form of government-issued identification, such as a driver's license, state-issued ID, military ID or passport. You also may have to present an alternate form of ID, such as a Social Security card or credit card.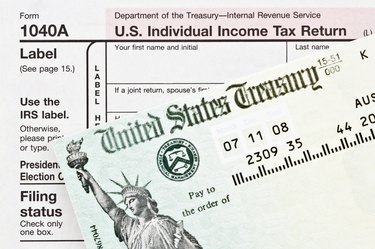 Types of Treasury Checks
The U.S. Department of Treasury issues checks for many types of payments. These include federal tax refunds, Social Security benefits, child support payments, veteran's benefits and railroad retirement benefits. Regular, recurring benefit payments are issued electronically. However, you may still receive a paper check for one-time payments like tax refunds, or for lump-sum benefit payments.
Cash at the Bank
If you have a bank account, you can cash your treasury check by visiting your bank and either depositing all or a portion of the check into your account. If you want to receive the entire amount of your check back in cash, let the teller know you just want to cash the check. If you don't have a bank account, some banks may cash your treasury check for a fee.
Check Cashing Service
Check cashing stores, such as Advance America, ACE Cash Express and Check into Cash will cash treasury checks for a fee. Fees vary depending on the amount of the check and the state you live in, so call the store and ask what the fee is before you decide to use a check cashing service. You can also cash treasury checks at retailers such as Walmart, and major grocery store chains. These stores also charge a check-cashing fee and may have a limit on the size of checks they will cash.
Prepaid Cards
If you have a prepaid debit card, you may have the option of loading funds from your government check directly to the card by taking your check into an authorized location. You also may be able to deposit funds to your card by snapping a picture of your check with your mobile phone and uploading it through an app. Depending on your card issuer's terms, this option may offer immediate funds availability, or it could take several days to credit your account.
Joint Checks
If you receive a check that is made out to you and a spouse, you both must be present to cash the check. If you go to a bank or check cashing service, you each need to provide the identification required. You also will both need to endorse the check. If you make a mobile deposit to a bank or prepaid card, the account you deposit to must be a joint account.