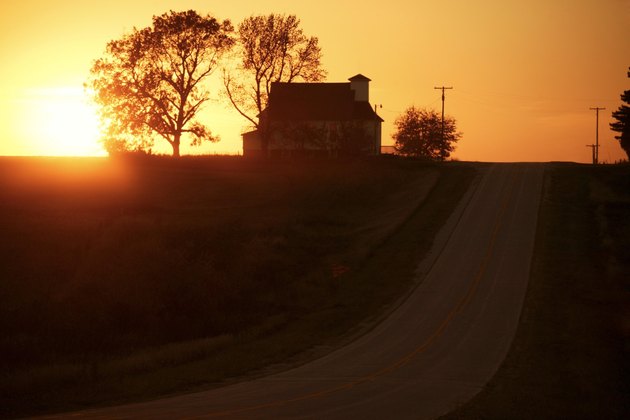 Homebuyers in rural areas have a mortgage option backed by the federal government. Borrowers can purchase a home in eligible rural areas with no down payment and competitive interest rates. The Department of Agriculture offers two types of loans to borrowers who meet income requirements. Income and need differentiate the USDA guaranteed loan program and the direct loan program.
Guaranteed Loan Program for Moderate Income Borrowers
The USDA's Rural Development Guaranteed Housing Loan assists low- to moderate-income borrowers in certain suburban and rural communities. The USDA sets income limits that vary by household size, state and county. The loans can be used to construct, rehabilitate, relocate or make improvements to a primary residence. Borrowers can also buy an existing or newly built single-family houses, including manufactured homes. Homes must be decent and modest-sized and meet the program's criteria for safety and sanitation.
Direct Loans for Very Low-Income Borrowers
The USDA's Direct Loan program provides financial assistance to low- and very low-income borrowers. The USDA provides a payment subsidy which helps homeowners make their monthly payments more manageable. All or part of the subsidy must be repaid when the borrower sells the home or moves out. Eligible borrowers must be at or below the USDA's low-income limits in the area they want to purchase, but they must demonstrate sufficient income to make their housing payment. To get a direct loan, borrowers must also:
lack safe, sanitary and decent housing
be ineligible for other mortgage programs under reasonable terms
have the legal ability to incur a mortgage
be eligible for federal programs.
Mortgage Insurance Required for Guaranteed Loans
The USDA guarantees 90 percent of the loan amount on non-direct loans. As such, the lender receives reimbursement if the borrower defaults. Borrowers pay for mortgage insurance each year via monthly installments. A one-time upfront mortgage insurance premium is also added to the loan amount at closing. As of the time of publication, the upfront premium equalled 2 percent of the loan amount and the annual premium equalled .4 percent of the remaining principal balance.
Approved Lenders Offer USDA Loans
Applicants must confirm eligibility and designated rural areas with USDA-approved lenders. Mortgage companies, brokers, banks and credit unions may participate in the USDA's loan program. The department maintains a list of eligible lenders on its website. Lenders confirm the most recent USDA-designated areas in which borrowers can purchase or refinance with a guaranteed or direct loan. Interest rates and certain eligibility criteria, such as minimum credit scores, vary by lender.